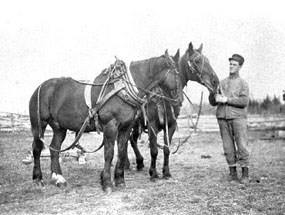 A four-foot cucumber... a 70-pound squash... potatoes eight inches around!
Early advocates for farming in the Apostle Islands were enthusiastic. The soil of the islands, they said, was suitable for fruits, vegetables, small grains, and dairy farming. Even more important, the moderating effect of Lake Superior upon the islands' climate meant that the growing season in the Apostles was some 40 days longer than nearby locations just a short distance inland.
But the expected agricultural boom never took place, and the last island farm was gone before the end of World War II. With their isolation and limited accessibility, farms on the islands could never compete economically with those on the mainland. Today, all that remains of these farms are ruined buildings, the outlines of fields, and a few hardy fruit trees.