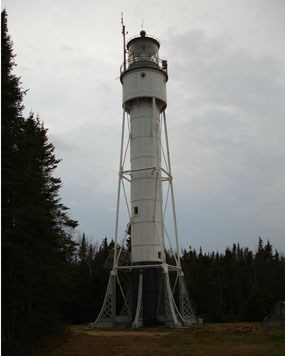 The final jewel was placed in the necklace of lights around the Apostle Islands when the beacon on Devils Islands was lit in 1891. A two-story, red brick, Queen Anne- style keeper's dwelling and a building for the steam fog signal were completed at this time, but the light was placed in a temporary tower. The tower, made of wooden timbers, held a fourth order, nonflashing red light.
A two-story, brick and shingle house similar in design to the keeper's dwelling was built for the assistant keepers in 1897. Work began on the permanent tower, an 82- foot tall steel cylinder, that same year. Although the tower was ready in the fall of 1898, there was a three year delay in supplying it with a lens. A third order lens from the Paris firm of H. Lepaute finally arrived in April 1901. The permanent tower was placed in service shortly afterward, and the temporary tower torn down the same year.
The lighthouse was originally designed as a plain, self-supporting cylinder, but the high winds of its exposed location caused the tower to shake so badly that lightkeepers complained that the motion sometimes extinguished the lamp. In 1914, the Lighthouse Service reinforced the structure with external braces, alleviating the problem and giving the tower the appearance we see today.