A Long Night on the Lake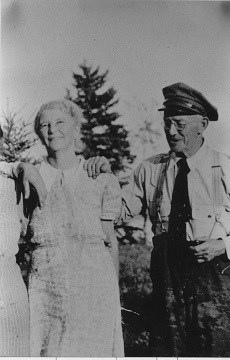 Burt and Anna Mae Hill were among the best-loved and most widely respected residents of Sand Island. Anna Mae was the daughter of Frank Shaw, the island's first European settler. In 1896, she married Burt, a native of Appleton who had settled in Ashland. They had two daughters, one of whom died in childhood. When Anna Mae's father retired from farming in 1910, the Hills left their home in Ashland to take over Mr. Shaw's island farm
Burt was a multi-talented jack-of-all-trades. On the mainland, he had been a printer and journalist. To make a living on the island, he fished, farmed, did carpentry, served as the community postmaster, and briefly ran a co-op store. People who knew him said he could fix just about anything. Anna Mae gained renown for her cooking, and she supplemented the family income by providing meals for fishermen and vacationers. She was also a skilled healer, dispensing remedies for neighbors' ailments and even setting broken bones.
Burt and Anna Mae maintained their island home until old age and ill health forced them to move to the mainland in 1941. They were among the last full-time residents of the island. In October 1944, the remaining families took leave of the island, and the Ashland Daily Press headline read, "Sand Island Deserted First Time In Half a Century."
Life on the island provided many challenges. Here, Burt recalls how a simple trip to the mainland nearly turned to disaster for the couple and their seven-year-old nephew.
"What was one of the most exciting events of our career on Sand Island thus far was our trip to Bayfield on October 4, 1926. We had waited nearly a month for a nice day to make the trip, but it turned out to be one of the worst wind storms of the season.
The wind was south and we kept under the lee of the main shore until we reached Point Detour. Here we ran into the biggest sea that I had ever encountered. I tried to get into the Bay at the Pageant Grounds where we could tie up at a dock, but every time that we would go down on a big sea the engine would stop.
I tried two or three times to make it but it was of no use and I turned back. When reaching the gas buoy on that point I threw anchor and waited until after two o'clock, thinking that some boat might come along and pick us up, but nothing doing. Not a boat all day long.
I then decided that we might just as well turn back for home. When I came to lift the anchor I found that it was foul and it took the efforts of Mae and myself to get it loose. We then started for home but when opposite Frog Bay the wind became so strong that it nearly capsized the boat before I could get it headed into the wind.
Here we laid until 5 o'clock when I decided to try and get ashore where we could get shelter in an old cabin. I got near enough so that we could have reached the shore by wading but we did not want to get wet, so I pulled out a ways from the shore and threw the anchor.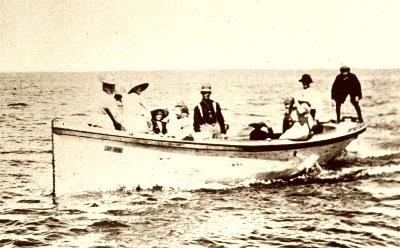 Here we stayed all night. I laid some life preservers on the floor, and with our coats to cover us we tried to get some sleep, but I was too nervous to sleep, so I got up and sat by the engine all night. I thought that when one of those strong gusts of wind would strike that the anchor chain might break and I wanted to be ready to start the engine and run the boat onto the beach but the chain held all right and as soon as it was daylight we pulled anchor and started for Bayfield where we arrived at 7 o'clock in the morning. The wind had subsided some and switched to the northwest, turning cold and snowing but we reached port without any more trouble where we went to the hotel, washed up and had breakfast.
We were lucky in having something to eat with us. We were taking some roast chicken, butter, etc., to Marguerite and I had diabetic bread that I always carried when away from home, but I was in such a nervous state that I ate but one sandwich during all this time.
We intended to go right through to Ashland with the boat but when we reached Bayfield we decided that we had had enough boating for awhile and we took the train for the balance of the way."
Last updated: January 4, 2016