Join Our Friends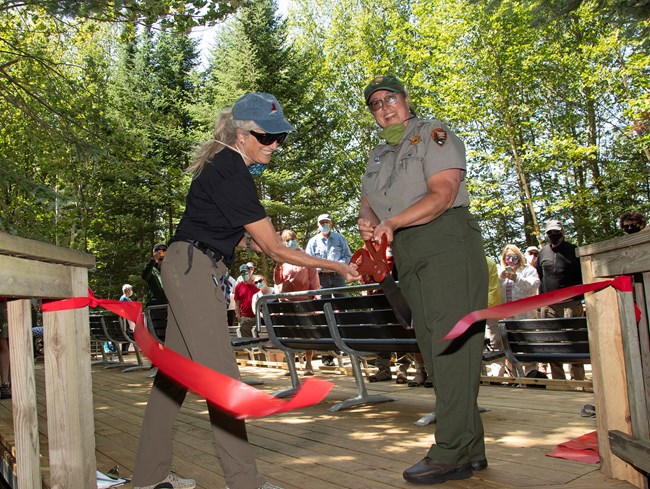 Helping people to help the park, that's what friends do. Founded in 2004, to help foster an appreciation and to build support for this national lakeshore, Friends of the Apostle Islands brings together sea kayakers and sailors and power boaters, wildlife watchers and lighthouse buffs and beach combers, all the users of these islands, to support the National Park Service. Through Friends you can:
Help plant beach grass to restore our beautiful sandscapes or tend the lighthouse gardens.
Connect kids to the history and adventure of the park through youth engagement programs.
Support accessibility efforts aimed at ensuring access for all.
Get the information and inspiration you need for your next adventure through their website, videos, newsletters, and podcasts.
Help the park you love.
To learn more about how to become a Friend of the Apostle Islands contact:
Friends of the Apostle Islands National Lakeshore
PO Box 1574
Bayfield, Wisconsin 54814
info@friendsoftheapostleislands.org
715-449-6900
http://www.friendsoftheapostleislands.org
And folllow them on Facebook and Instagram
The National Parks of Lake Superior Foundation (NPLSF) is a newly organized, privately supported effort to fund special projects in the five U.S. national parks on Lake Superior, over and above appropriated funds. These projects include preservation of historic structures and lighthouses, improved visitor services and facilities, enhanced environmental education programs and more.
This effort is meant to complement efforts by the Friends organizations of individual parks. Any private donations received will be split evenly between the parks, unless the donation has a specifically targeted project or park. The NPLSF is actively seeking partners to assist in developing this special new funding organization and invite individual and major donors.
To learn more about how to become involved in these efforts write to the following address:
National Parks of Lake Superior Foundation
1901 W. Ridge St.
Suite 9
Marquette, Michigan 49855
906-362-3152
http://www.nplsf.org/


Last updated: February 25, 2022