The Surrender Meeting between Lee and Grant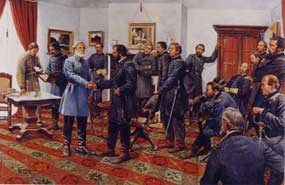 On April 9, 1865 after four years of Civil War, approximately 630,000 deaths and over 1 million casualties, General Robert E. Lee surrendered the Confederate Army of Northern Virginia to Lieutenant General Ulysses S. Grant, at the home of Wilmer and Virginia McLean in the rural town of Appomattox Court House, Virginia. General Lee arrived at the McLean home shortly after 1:00 p.m. followed a half hour later by General Grant. The meeting lasted approximately an hour and a half. There are 16 people that are known to have attended at least part of the meeting as shown in Keith Rocco's painting (shown above). The participants are:
CSA
Gen. Robert E. Lee
Lt. Col. Charles Marshall
USA
Lt. Gen. Ulysses S. Grant
Lt. Col. Ely Parker
Lt. Col. Orville E. Babcock
Maj. Gen. Edward O. C. Ord
Lt. Col. Horace Porter
Capt. Robert T. Lincoln
Lt. Col. Theodore S. Bowers
Maj. Gen. Phillip H. Sheridan
Brig. Gen. John Rawlins
Brig. Gen. Rufus Ingalls
Lt. Col. Adam Badeau
Brig. Gen. George H. Sharpe
Brig. Gen. Michael Morgan
Brig. Gen. Seth Williams

The terms agreed to by General Lee and Grant and accepted by the Federal Government would become the model used for all the other surrenders which shortly followed. The surrender of the Army of Northern Virginia allowed the Federal Government to redistribute forces and bring increased pressure to bear in other parts of the south resulting in the surrender of the remaining field armies of the Confederacy over the next few months.
On April 26th General Joseph Johnston surrendered to Major General W. T. Sherman near Durham, North Carolina (now Bennett Place State Historical Park); on May 4th General Richard Taylor, the son of 12th President of the United States, Zachary Taylor, surrendered at Citronelle, Alabama; on June 2nd General Edmund Kirby Smith surrendered the Confederate Department of the Trans Mississippi to Major General Canby; and on June 23rd General Stand Watie surrendered Confederate Cherokee Indian forces in Oklahoma.


Last updated: March 31, 2012