Silent Witness to the Surrender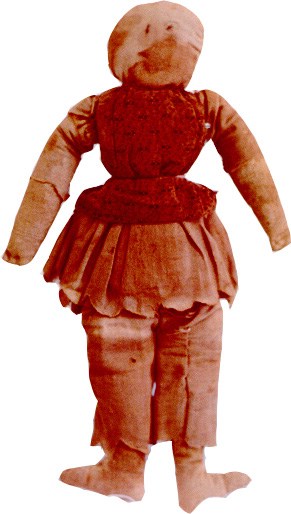 ~The Silent Witness~
On April 9, 1865, General Robert E. Lee surrendered his once formidable army of Northern Virginia to three Federal armies turgid with men and materiel under General Ulysses S. Grant. The terms of surrender were set during a one and a half hour meeting between the two generals in the parlor of the McLean Home.
The McLeans, an upper middle class family, had moved to Appomattox Court House as refugees during the war. Wilmer and Virginia McLean had five children - four daughters and a son. Sometime before Lee and Grant met that Palm Sunday afternoon, seven-year-old Lula McLean had left her favorite doll in the parlor. The little rag doll was apparently left on the horsehair sofa that her sister, Nanny McLean Spillman would later donate to the National Park Service.
"I have heard Mrs. McLean say frequently that the Union troops not only stole the tables and chairs besides other small furniture, but even took the childrens' play things..." - H.E. Spillman, Wilmer McLean's Son-In-Law-
While the generals met, and the room was packed tightly with the entourage that was Grant's staff, the rag doll remained in the room where Lula had left it. When the meeting ended, Union officers - anxious to obtain souvenirs of the event - plundered the McLeans' parlor appropriating items including Lula's rag doll.
Colonel Horace Porter of General Grant's staff, wrote: " A child's doll was found in the room, which the younger officers tossed from one to the other, and called the 'Silent Witness'."
One of the cavorting Federal staff officers was Captain Robert Todd Lincoln, son of the President of the United States. The doll was taken from the home by Capt. Thomas W.C. Moore, of Major General Sheridan's staff. For well over a century, the Moore family kept the doll as a "war trophy" of sorts. Poor Lula never saw her beloved rag doll again.
Lula's descendants remembered the doll as "...lovingly handmade by a doting mother".
The body of the doll was made of coarse unbleached cotton and stuffed. Inked on the simple, round face were eyes and nothing more. Printed cotton fabric was stitched together to fashion a bodice, skirt and leggings.
The doll was donated to Appomattox Court House National Historical Park in December 1992, and is now on permanent exhibit at the park.


Last updated: March 31, 2012