Wall of Honor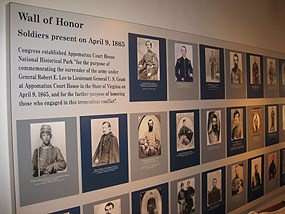 Wall of Honor
While most Americans easily recognize the two individuals central to making Appomattox Court House a must-see site, Generals Grant and Lee only head-up the list of fascinating personalities and stories emerging from the April 1865 events in Appomattox. Contributing to the texture of that period are stories of many heroic soldiers from both the North and the South. Over 400 stories and photographs of these soldiers are presented in an amazing rotating collection for easy viewing on the Wall of Honor in the park's visitor center. Many of these images were contributed by descendants of these soldiers. These men represent a unique glimpse into the reality of the war that divided the nation.
Do You have an ancestor who was a soldier present at the time of the surrender?
Appomattox Court House National Historical Park is seeking photographs for inclusion in the Wall of Honor exhibit and for documentary and research purposes. Requirements for inclusions in the Wall of Honor are:
1.) Proof of Presence. A listing on a parole record, or copy of military service record from the National Archives Link here
2.) Wartime photograph in uniform. Color-tinted or black and white, negative or 5x7 print.
3.) Name, Rank, and Unit Affiliation, i.e. regiment, battery, etc. (Non-wartime photographs are also being accepted along with associated documents --parole passes, letters, etc.--for park files and later publication.
Send to:
Appomattox Court House NHP
Attn: Patrick Schroeder, Historian
Hwy. 24, P.O. Box 218
Appomattox, VA 24522
Phone: 434-352-8987 ex. 232
Last updated: May 16, 2017