The Commissioners' Meeting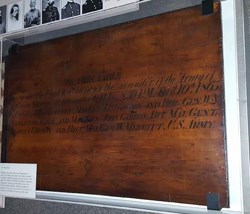 On the afternoon of April 10, 1865, three Confederate generals and three Union generals met to discuss the details of the surrender.Representing the Confederates were Generals James Longstreet (First and Third Corps, age 44), John Gordon (Second Corps, age 33), and William Pendleton (Chief of Artillery, age 55);the Union officers were Generals Wesley Merritt (Cavalry Corps, age 28), John Gibbon (Twenty Fourth Corps, age 37), and Charles Griffin (Fifth Corps, age 39).These generals gathered initially in a room of the Clover Hill Tavern, but it was, according to Gibbon, a "bare and cheerless place," so it was decided that the commissioners would adjourn to the McLean House.There they met in the same room that just the day before had hosted Generals Lee and Grant.
At this meeting the detailed implementation of the Army of Northern Virginia's surrender was discussed.This included exactly what would happen during the formal surrender ceremony (the Stacking of the Arms), the order that men who owned their own animals would be allowed to keep them, and to define who was subject to the surrender.It was this last point that was of some debate, but eventually the generals would settle upon that all forces with the Army of Northern Virginia from the 8th of April forward would be considered surrendered.The only exceptions would be any cavalry that had escaped prior to the surrender and artillery pieces more than twenty miles from the village on the 9th.As the final terms were agreed upon, it was requested of General Gibbon to write out the document.As the generals went to sign the terms, there being little furniture left in the parlor from the day before, Gibbon directed that his camp-table be brought in and upon it the generals signed.Gibbon had effectively created his own souvenir, which the next day he had it inscribed memorializing its use and all those who had signed the terms.This unique souvenir can now be found in the museum of the Visitor Center at the park.
The original document is now held by the Historical Society of Maryland in Baltimore. View the original document.

Last updated: September 28, 2015