Bring the Park to Your School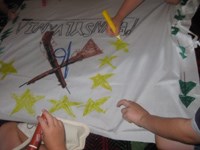 Can't fit it into your schedule? Have us come to you! Park staff are available to come to your class to give programs related to your field of study. Park staff are only available when scheduling permits, and can only travel within a short radius of the park (Appomattox, Amherst, Bedford, Campbell, Charlotte, Cumberland, Prince Edward, Pittsylvania Counties, and Lynchburg).
Please contact Education Coordinator Brandon Chamberlain by e-mail (or at 434-352-8987 ext. 231) to arrange for a visit. Park staff can discuss a variety of topics related to the Civil War. When possible, staff may come in Civil War period uniform and bring reproduction clothing, equipment, and weapons (check with your school policy first).
Last updated: January 11, 2016