Memorial Day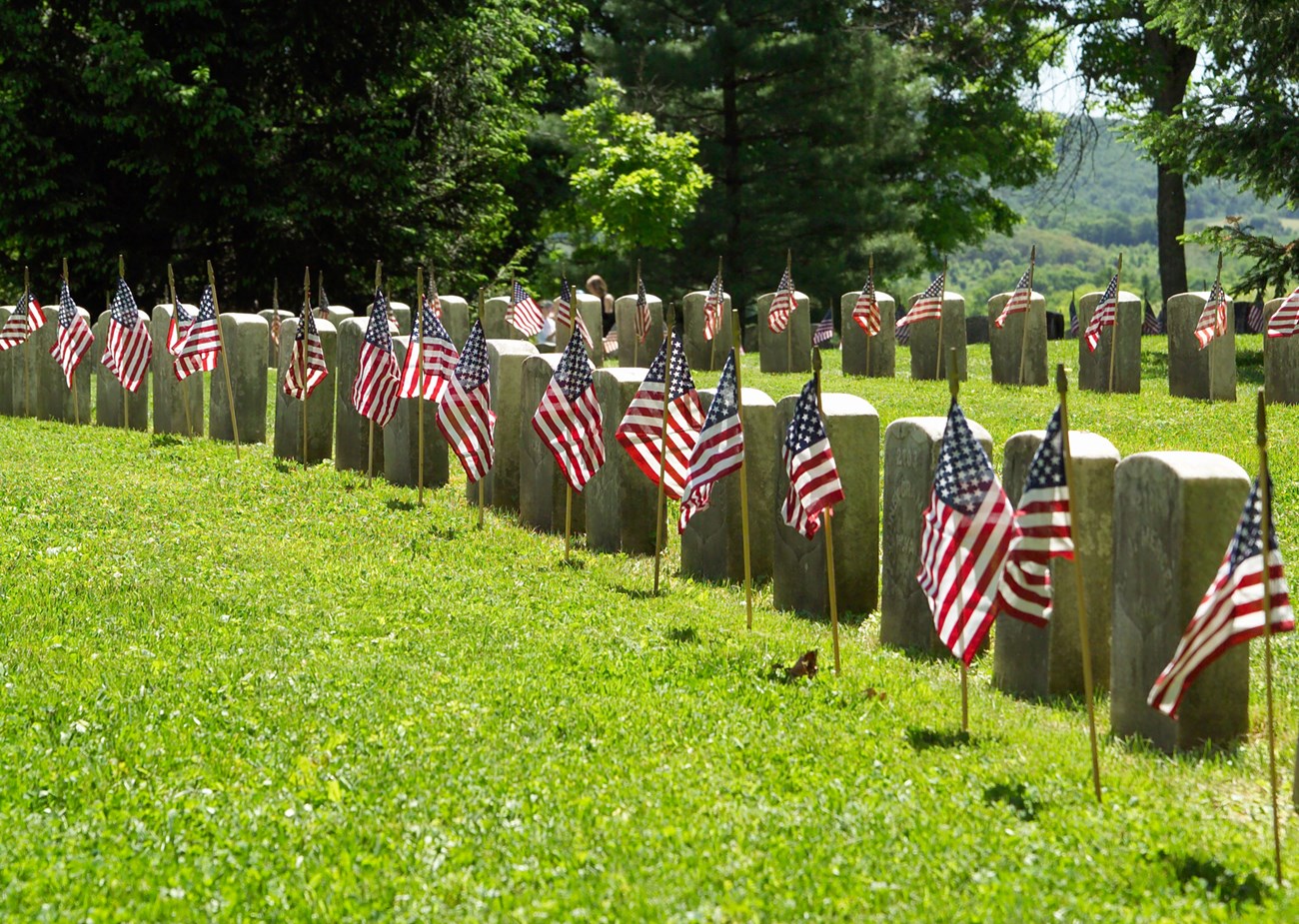 Antietam National Battlefield will commemorate Memorial Day on Monday, May 29, 2023

Antietam National Battlefield will present a Memorial Day Program on Monday, May 29, 2023, starting at 11:00 a.m. at the park's National Cemetery. The Cemetery is located on Rt. 34, just east of Sharpsburg, MD.

This year's program includes keynote speaker Dr. James Broomall, Director, George Tyler Moore Center for the Study of the Civil War, Shepherd University

Music will be provided by the Hagerstown Choral Arts. There will be a cannon salute by the park's volunteer group, Battery B, 4th U.S. Artillery and Taps will be played by Master Sergeant Geoff Blankenship and Chief Master Sergeant (Retired) Ron Glazer of the 167th Airlift Wing, Martinsburg, West Virginia.

A ranger guided tour of the battlefield will be offered at 1pm, which will conclude with stop at the National Cemetery. This program will meet at the Antietam Battlefield Visitor Center and will last approximately 3 hours.

The town of Sharpsburg will commemorate Memorial Day on Saturday, May 27, with a ceremony on town square at 11:00 a.m. and the annual Memorial Day Parade starting at 2:00 p.m. In a wonderful tradition, the Sharpsburg Elementary School 5th grade class will place 5,000 flags at the National Cemetery, one for every headstone, on Thursday, May 25 in preparation for the holiday.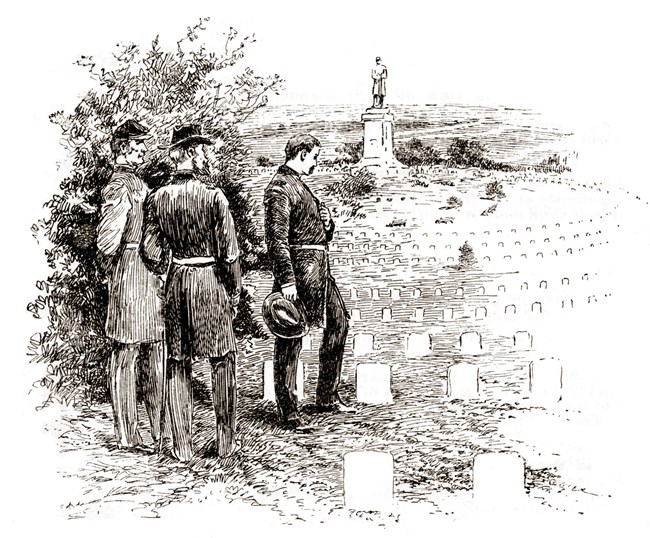 On May 5, 1868, three years after the Civil War ended, Maj. Gen. John A. Logan, the head of an organization of Union veterans — the Grand Army of the Republic (GAR) — established Decoration Day. The day was set aside for the nation to remember those who were killed in service of our country and to decorate the graves of the war dead with flowers. Ever since 1868, this day of remembrance has been commemorated across the country and in 1971 Congress declared Memorial Day a national holiday.


Transcript
I am standing on the most sacred ground at Antietam National Battlefield, and the first land preserved at your park. These eleven acres framed by stone and iron, represent a global story of sacrifice for freedom and equality. From Sharpsburg to Frostburg, France to the Philippines, Germany to China, Italy to Okinawa it is the story of 5,000 American service men and women who served across the globe and now rest here in peace.
When you visit Antietam National Cemetery Cemetery, you must always remember that every stone represents the heart, the soul, and the sacrifice of an American serviceman or women who dedicated themselves to the service of their country.
Soldiers like George Simpson. He was 22 year old farmer from Huntington County, Pennsylvania. A. He enlisted in the 125th Pennsylvania Infantry and on the morning of September 17th he carried the flag for the regiment's as they charged past the Dunker Church and into the West Woods.
On soldier remembered, "It was a dreadful struggle and we were thrust into the very furnace of battle." 229 were killed and wounded in about 20 minutes. As the 125th charged past the Dunker Church. George was shot down. His Captain said "He fell, his death was instantaneous…covering the flag with his body and staining it with his life blood oozing from his right temple." The flag was picked up by Private Eugene Boblitz who was wounded in the right ankle and hip – threw the flag forward and it was saved by Sgt Greenland. "The color bearer was lying on his left side, with his right arm around the flag and staff. His death was instant, his arms, after the battle, retained the exact position that they were in as he held the colors when he was struck by the bullet."
A monument to the 125th was dedicated 42 years later with likeness of George Simpson on top. The Flag he carried on the morning of the battle was brought back for the dedication. A local paper said, "The flag will wave again over the men who made the gallant and heroic charge into the Dunker Church woods … The flag has been seen by just a few of the boys since the battle and the sight of it will revive many of the recollections and emotions of that exciting and strenuous day." The monument was unveiled by George's sister, Miss Annie Simpson.
Over 50 years later Private Eugene Boblitz the old veteran who picked up the flag when George Simpson was shot down, came to visit the battlefield and of course he came here to the National Cemetery to George Simpson's grave. And when he arrived, he fell to the ground and wept like a child.
Over a year before the Battle of Antietam, in fact three weeks before the first battle of the Civil War at Manassas on July 2, 1861, Union and Confederate soldiers clashed at a small battle known as the First Battle of Falling Waters. 19-year-old George Drake was a private in Company A, the First Regiment of Wisconsin Volunteers. Drake was the oldest of five children was killed when a bullet smashed into his chest -- the first Wisconsin casualty in the Civil War. George was first buried in Williamsport, Maryland, but after the National Cemetery was established, he was brought here and lies in grave 3259
Mae Lundberg is the only female veteran buried here at the National Cemetery. During WWI she served as a nurse in the United States Army. Mae worked in the American Hospital and the Red Cross Hospital in France. After the war she worked for the Rockefeller Foundation for the Prevention of Tuberculosis for two years and then spent another year working for the Red Cross. Mae died in the Veterans Hospital in Martinsburg, West Virginia. She was brought here and is now lying at rest in grave number 4469.
Ernest Fletcher was from Little Orleans, Maryland. He went to Flintstone High School. He worked at the Fairchild Aircraft Plant before enlisting in the United States Army in April of 1943. He trained in Florida, Nebraska, Wyoming and, Utah before deploying overseas as a Radar operator on B-24 Liberator attached to the 8th Air Force. On Tuesday, December 12, 1944 he was on his last mission of the required 36 mission before getting a 30-day furlough home. 378 B-24s launched that morning to bomb Germany. Three B-24s are lost and 45 are damaged. Sgt Fletchers B-24 was struck by a hail of flack and crashed. The headline in the local paper on December 31, 1945 said, "Earnest Fletcher is Dead, Parents Told." Earnest was brought back home to Maryland to be buried here at Antietam National Cemetery.
On Thursday, October 12, 2000, the Navy destroyer the USS Cole was docked for refueling at a port in Yemen. It was 11:15 in the morning and the sailors were just lining up for lunch. Two terrorist bombers navigating a small motorboat full of explosives pulled up close. The explosion ripped a hole 40 feet wide in the side of the ship. It killed 17 crew members and wounded 39 others. One of those killed was Patrick Howard Roy. The 19-year-old fireman apprentice had grown up just down this road in Keedysville. The family requested that Patrick be buried here. The cemetery had been closed for 47 years, so it took a special effort to find a way to legally honor their request. Patrick was buried here on the west side of the cemetery on October 29, 2000.
Maxwell Leo Swain was twenty years old in December of 1944. He went to Hagerstown High School and right after graduation he joined the United States Army. Swain's regiment was on the front lines on December 16, 1944. It was cold, snowy and eerily quiet when German artillery shells and the rumble of tanks announced the start of The Battle of the Bulge. Max and his fellow soldiers tried to escape from the encircling German troops when he was killed by machine gun fire.  He and five others were initially buried along a road in an unmarked grave, just outside of a German soldier's cemetery. A few years later their grave was discovered and it was only because of an address book given to Max before he left Hagerstown by his mother that his remains were identified.  Finally, on June 15th, 1949 Max arrived home in Maryland to his final resting place here at the Antietam National Cemetery. Today, you can visit Sergeant Swain, he is the last grave in the row, grave number #4446
From ending slavery here at home, to defeating fascism, communism, and terrorism abroad, I am surrounded by heroes, their blood shed for you and I. On this Memorial Day we remember their sacrifice.
Page Break
Okinawa is a small island in the Pacific, 60 miles long by 18 miles wide. Operation Iceberg was launched April 1, 1945 and it was the last major battle of World War II and the largest amphibious landing in the Pacific theater. The battle lasted for 82 days and was called a "typhoon of steel" Another soldiers described it as "the most ghastly corner of hell I had ever witnessed." 180,000 soldiers and Marines battled in mud and terror for 82 days. Never in one battle did the United States Navy loose as many ships. 3,000 humans, American, Japanese and Okinawans died each day for 82 days in a deadly convoluted death trap of rock, ravines, tangled vegetation and dug in positions.
Private James Edward Kisow, 19 years old from Coraopolis, PA, Went to Moon Township High School
Co. I, 3rd Battalion, 5th Infantry, 1st Marine Division
KIA – 6 May 1945 Gun shot wound to the head
Buried at first in Cemetery #1, Ryukyu Island, Okinawa, brought home and buried Feb 16, 1949
Private James Holland Morgan, 19 years old from Hedgesville, WV Mother died when he was young, He had one sister, father RR worker, James worked for a while at the B & O before enlisting. Track star at Hedgesville High School. 2nd place in the state final for the one mile – ran a 4:48 mile.
Enlisted in Co G, 2 Battalion, 7th Infantry, 1st Marine Division
Received Purple Heart for wound received at Peleliu where he took a shell fragment to his back.
KIA – 13 May 1945, Gunshot wound to the chest, re-interred here on March 2, 1949
PFC Edward G. Martin,
He was from Cearfoss, MD and was a graduate of Hagerstown High School and a member of Mt. Tabor Lutheran Church. He had three brothers and four sisters. He worked at the Miller-Liskey Electric Company.
Enlisted in the Army in January of 1943, the 381st Infantry, 96th Division
He fought in the Philippines before joining the fight at Okinawa.
KIA May 18, 1945 in Okinawa, Interred March 11, 1949. He as just 21 years old.
Last updated: April 14, 2023