Antietam National Battlefield Plans Rededication of the Historic Burnside Bridge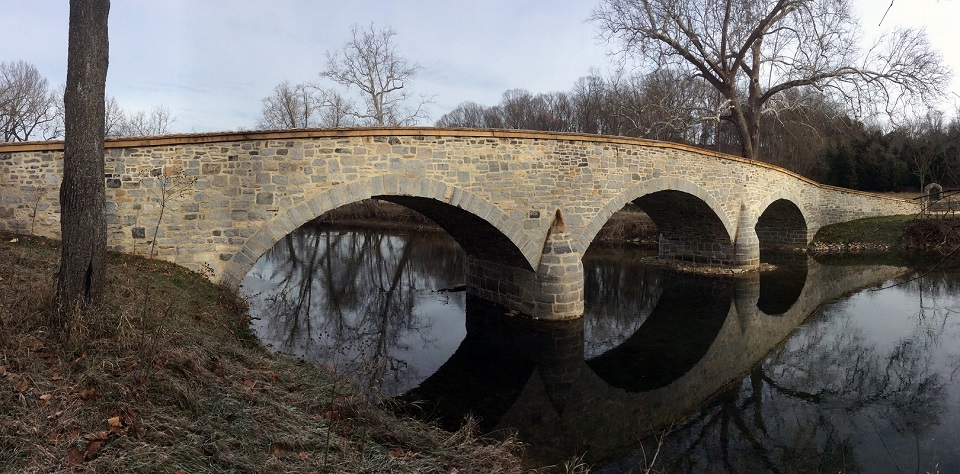 News Release Date:
April 7, 2017  
On Friday, April 21 at 1:00 p.m., Antietam National Battlefield will hold a ceremony to rededicate the historic Burnside Bridge. This ceremony is open to the public and will be held at the bridge. Speakers will include officials from the National Park Service.
Burnside Bridge recently re-opened after undergoing 15 months of major repairs. These repairs included rebuilding the bases of the two bridge piers, selectively dismantling and relaying the stone parapet walls, adding new wood coping, and resurfacing the bridge. Prior to dismantling, every stone was painstakingly mapped, recorded and re-laid as close as possible to its original location.
Built in 1836, the bridge and was made became famous as a focal point during the Battle of Antietam, fought on September 17, 1862. For over three hours, Confederate soldiers defended the bridge against a series of attacks by the Union Ninth Corps, commanded by Gen. Ambrose Burnside. Burnside's men eventually drove the Southerners back and captured this critical crossing over Antietam Creek.
The contract to repair Burnside Bridge was managed by the National Park Service Historic Preservation Training Center (HPTC), based in Frederick, Maryland. The Center was founded in 1977 to meet the growing demand for craft skills development for NPS employees tasked with preserving the thousands of historic structures within the National Park System
According to Superintendent Susan Trail, "We wanted to take an opportunity to thank all of those involved in the magnificent restoration work that was completed on the bridge. Their work has preserved this national treasure for this and future generations." For more information, contact the park at 301-432-5124.  
Last updated: April 7, 2017