Clara Barton at Antietam, part 2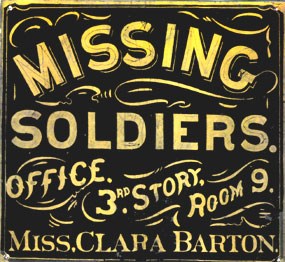 An Idea Is Born
By 1863, the Army Medical Department was geared up for a major war, overwhelming any efforts made by a single individual such as Miss Barton. But she continued working at battlefields as the war dragged on. Miss Barton threw herself into her next project as the war ended in 1865.
She helped with the effort to identify 13,000 unknown Union dead at the horrific prisoner-of-war camp at Andersonville, Ga. This experience launched her on a nationwide campaign to identify soldiers missing during the Civil War. She published lists of names in newspapers and exchanged letters with veterans and soldiers' families. The search for missing soldiers and years of toil during the Civil War physically debilitated Miss Barton. Her doctors recommended a restful trip to Europe.
Although still ailing, another crisis jolted Miss Barton into action. The outbreak of war in 1870 between France and Prussia (part of modern day Germany) brought hardship to many French civilians. Miss Barton joined the relief effort, and in the process, was impressed with a new organization—the Red Cross. Created in 1864, the Red Cross was chartered to provide humane services to all victims during wartime under a flag of neutrality.
A Life's Work

Miss Barton returned to the United States and began her most enduring work—the establishment of the American Red Cross. A reluctant U.S. government could not imagine the country ever again being involved in armed conflict after the Civil War. Finally, by 1881 at age 60, she persuaded the government to recognize the Red Cross to provide for natural disasters.
Miss Barton continued to do relief work in the field until she was well into her 70s. But she was not a strong administrator, and political feuding at the American Red Cross forced her to resign as president in 1904.
Never married, Miss Barton was wedded to her convictions. She died in 1912 at age 90 in her Glen Echo home. She is buried less than a mile from her birthplace in a family plot in Oxford, Mass. There is a monument to Clara Barton at Antietam on the north end of the Battlefield.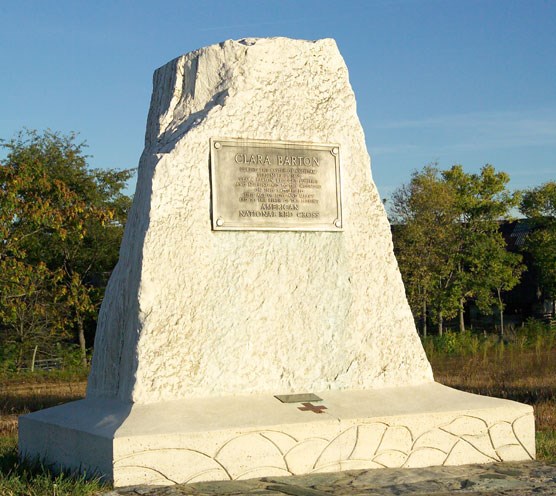 Last updated: April 10, 2015