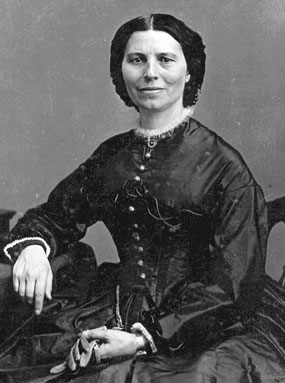 Arriving at the northern edge of the infamous "Cornfield" at about noon, Clara Barton watched as harried surgeons dressed the soldiers' wounds with corn husks. Army medical supplies were far behind the fast-moving troops at Antietam Battlefield. Miss Barton handed over to grateful surgeons a wagon load of bandages and other medical supplies that she had personally collected over the past year.
Then Miss Barton got down to work. As bullets whizzed overhead and artillery boomed in the distance, Miss Barton cradled the heads of suffering soldiers, prepared food for them in a local farm house, and brought water to the wounded men. As she knelt down to give one man a drink, she felt her sleeve quiver. She looked down, noticed a bullet hole in her sleeve, and then discovered that the bullet had killed the man she was helping.
Undaunted, the unlikely figure in her bonnet, red bow and dark skirt moved on—and on, and on. Working non-stop until dark, Miss Barton comforted the men and assisted the surgeons with their work. When night fell, the surgeons were stymied again—this time by lack of light. But Miss Barton produced some lanterns from her wagon of supplies, and the thankful doctors went back to work.
Miss Barton's timely arrival at the battlefield was no easy task. Only the day before, her wagon was mired near the back of the army's massive supply line. Prodded by Miss Barton, her teamsters drove the mules all night to get closer to the front of the line.
Within a few days after the battle, the Confederates had retreated and wagons of extra medical supplies were rolling into Sharpsburg. Miss Barton collapsed from lack of sleep and a budding case of typhoid fever. She returned to Washington lying in a wagon, exhausted and delirious. She soon regained her strength and returned to the battlefields of the Civil War.