Visitor Impeachment Vote Tally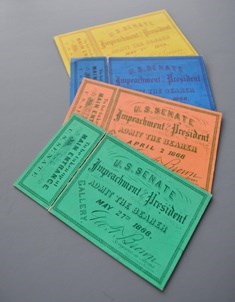 In May 1868, the United States Senate acquitted President Andrew Johnson of impeachment charges. The margin of acquittal was only one vote. Visitors to the Andrew Johnson National Historic Site today have the opportunity to cast their own vote. As part of the experience of visiting the site, visitors are given a replica of the ticket used to gain entry to Andrew Johnson's 1868 impeachment trial. In the museum, they have an opportunity to learn more of the circumstances regarding the impeachment charges, and they are encouraged to tear the end tab from their ticket and vote in a ballot box for Johnson's acquittal or guilt. Each year on May 26, the anniversary of the second Senate vote that acquitted President Johnson, employees tally the visitor results.
This year's 2014-2015 visitor count resulted in 3,382 Not Guilty votes and 532 Guilty votes.
Last updated: June 5, 2015