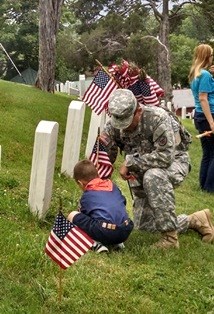 Memorial Day Weekend Special Programs at Andrew Johnson NHS
Greeneville, TN – In keeping with the observance of Memorial Day, visitors are invited to participate in a free ranger-led tour of the Andrew Johnson National Cemetery on Monday, May 28 at 10 am and 2 pm. In addition, tours of the cemetery will also be offered on Wednesday, May 30, at 10 am and 2 pm. The tours will include moderate physical activity including walking, climbing stairs, moving over uneven surfaces, and exposure to outdoor conditions. The program will explore the history of the national cemetery. The tours will last approximately 45 minutes each and are free to the public. Parking is available at the park maintenance area at 121 Monument Ave.

After the Civil War, Union General John A. Logan, who had been wounded in the battles of Bull Run and Vicksburg, became the Commander-in-Chief of the Grand Army of the Republic (GAR), the fraternal organization of Union Civil War veterans. On May 5, 1868, as the leader of GAR, Logan issued General Order No. 11, an act that initiated the first national observance for honoring Civil War dead. This year marks the 150th anniversary of his orders, which occurred while President Andrew Johnson was in the White House.

Originally called Decoration Day, Logan's order stipulated May 30 to be a day "designated for the purpose of strewing with flowers or otherwise decorating the graves of comrades who died in defense of their country during the late rebellion, and whose bodies now lie in almost every city, village, and hamlet church-yard in the land." The first Decoration Day event was held that year at Arlington National Cemetery in Washington, D.C. Attended by 5,000 people, including Ulysses S. Grant.

Following World War I, the name of the observance was changed to Memorial Day and expanded to honor all veterans who have died in American wars. With the National Holiday Act of 1971, Congress moved the date of Memorial Day from May 30 to the last Monday in May.

In honor of Memorial Day, scouting groups and community members will be placing flags on the graves in the National Cemetery on Friday, May 25th at 4:00 pm. The flags will remain on display until Friday, June 1.
For more information on these tours and volunteer opportunities, please contact the Andrew Johnson National Historic Site Visitor Center at 423-638-3551