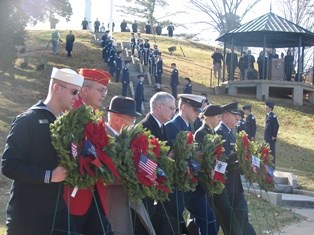 Wreaths Across America
On Saturday, December 16, 2017, the Andrew Johnson National Cemetery will participate in the national Wreaths Across America program. The mission of the Wreaths Across America program is: "Remember - Honor - and Teach. Remember the fallen; Honor those who serve;Teach our children the value of freedom. "
Prior to the event, a fir wreath with a red ribbon will be placed on all the graves in the National Cemetery by veterans and the Junior ROTC. During the event, seven ceremonial wreaths representing each branch of military service, with the last recognizing POWs and MIAs, will be carried through a saber arch salute provided by the Junior ROTC cadets. A moment of silence will follow, taps will be played, and there will be remarks and patriotic music. The public is warmly invited to the program which will take place on Saturday, December 16, 2017 at 11:30 a.m.