Trading Cards
The Andrew Johnson National Historic Site's trading cards marked the 150th anniversary of the Civil War and tell stories from the Civil War to Civil Rights. These cards continue to be an active part of the site's Junior Ranger program. Ask a Ranger or Volunteer at the Visitor Center for more information.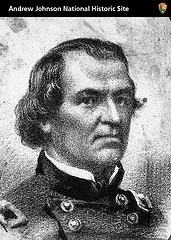 Andrew Johnson
Brevet Brigadier General
Before becoming president, Andrew Johnson served as Military Governor of Tennessee during the Civil War. From 1862-1865 he reestablished a Union government in the state. His efforts resulted in a convention that revised the state constitution, voided secession, abolished slavery, and rejected the Confederacy. Shortly afterwards, Tennessee became the first state to rejoin the Union.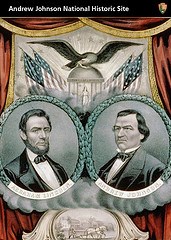 Lincoln and Johnson
Reuniting North and South
Abraham Lincoln and Andrew Johnson were elected President and Vice-President in 1864.This previously unheard of combination-a Republican and Democrat running together on the same ticket-was called the National Union Party. It represented both the North and South and symbolically reunited the two sides of the country after the Civil War.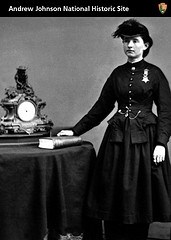 Earning the Medal of Honor


Dr. Mary Edwards Walker served as a Union surgeon during the Civil War. Andrew Johnson observed, "She has performed service deserving the recognition of the Government, which I desire to give..." With Johnson's signature, she became the first-and remains the only-woman to receive the Congressional Medal of Honor.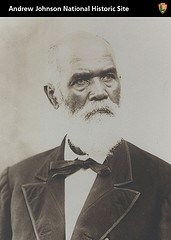 From Slave to Advocate


Sam, Andrew Johnson's former slave, became a Freedmen's Bureau Commissioner following the Civil War in Greeneville, TN-Johnson's hometown. He sent a letter to President Johnson, asking to buy land for a "School House for the education of the Coloured children of Greeneville…" Andrew Johnson gave Sam the tract of land for this purpose.
Freeing Dolly
Emancipation Day in Tennessee
Dolly, Andrew Johnson's first slave, holds his grandson. Although Johnson owned at least ten slaves, he freed them on August 8, 1863- still recognized as Emancipation Day in Tennessee. He freed all Tennessee's slaves in 1864. As thanks, freedmen gave him a watch inscribed, "…for his untiring energy in the cause of Freedom."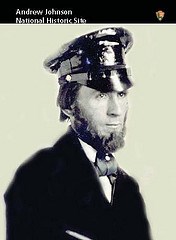 Charles Johnson
Crisis of Conscience
Although forced to take the Confederate oath of allegiance, Andrew Johnson's son Charles escaped East Tennessee and joined the Union Army as an assistant surgeon with the 10th Tennessee Infantry. His life was cut tragically short when he was thrown from a horse and killed shortly after the Battle of Stones River in 1863.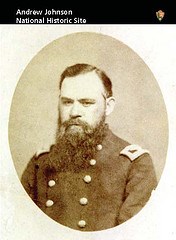 Robert Johnson
The Heartbreak of War
Andrew Johnson's son Robert followed in his father's political footsteps as Tennessee's State Representative. He voted against secession from the Union and helped organize the 1st Tennessee Cavalry, serving as colonel. However, when his brother died in 1863, Robert succumbed to depression and alcoholism. Unable to perform his duties, he resigned from the Union Army.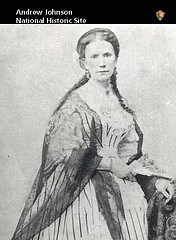 Mary Johnson Stover
Holding Down the Homefront
Mary Stover and her husband supported Union efforts in Confederate Tennessee. He burned bridges to halt Confederate advance and in 1861 retreated to the wintery mountains to avoid capture. Meanwhile, Mary tended to their three children, their farm, and provided refuge for her mother and brother. The family escaped through Confederate lines in 1862.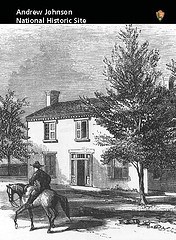 Forced to Leave the Homestead


Andrew Johnson's family was evicted from their home in East Tennessee in 1862 because they supported the Union. The Homestead served as a hospital and headquarters for both armies, including US Colored Troops. Soldiers, particularly Confederates from "Looney's Brigade," left expressive graffiti on the walls as poignant reminders of their occupation of the Johnson's home.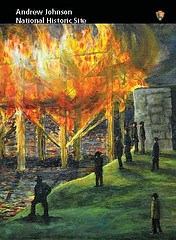 The Bridge Burners


Led by Capt. David Fry, Union supporters in East Tennessee burned bridges in the region to help free it from Confederate control in November 1861. Though they successfully burned some bridges, five men from Greene County, including some locally celebrated potters, were hanged for their deeds. This painting by Dr. George Blanks recreates the scene.
Last updated: December 15, 2017