Qualifications for Burial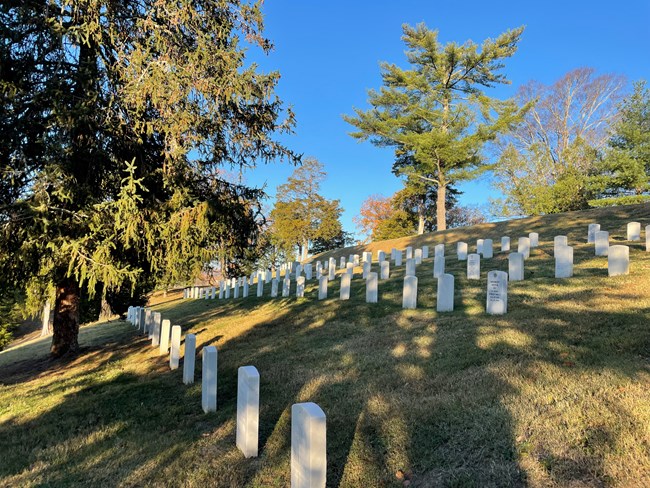 BE ADVISED:
Due to the exhaustion of available space, the Andrew Johnson National Cemetery has transitioned to inactive status. At this time, the only new burials will be for those with a plot previously assigned upon the interment of a predeceased spouse or dependent. These burials should be scheduled at the time of death through the funeral home of the family's choice. For future planning, be aware that the next closest National Cemetery is Mountain Home in Johnson City, Tennessee, approximately 30 miles from the Andrew Johnson National Cemetery.

The Andrew Johnson National Cemetery lies on land purchased by Andrew Johnson in 1852. A peaceful spot with remarkable views of the mountains, it was Johnson's favorite place to think and relax. Upon his request, it became his final resting place in 1875. Managed by the War Department from 1906 until 1942, the cemetery was then placed under the administration and care of the National Park Service. Since 1909, qualified veterans of the United States Armed Forces have joined Andrew Johnson and his family in this historic National Cemetery. It has been our honor to serve the veteran community for a century. For more information or questions, please call park Headquarters at 423-639-3711.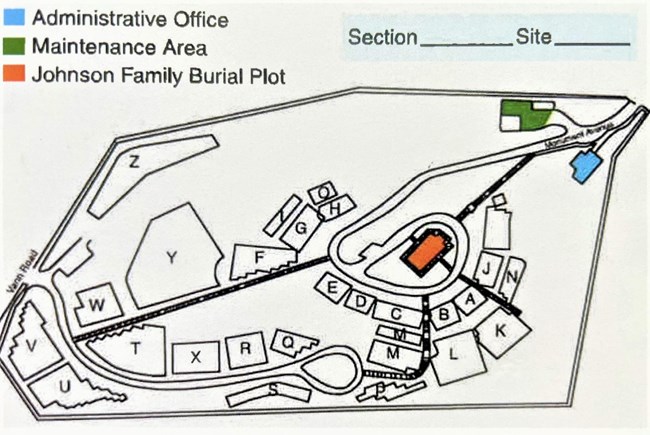 FINDING GRAVESITES
Within the National Cemetery, you can search for gravesites at the kiosk located on the porch of the Headquarters Building (the Lodge). Staff members can assist you in finding sections and numbered locations.
You can also search for gravesites online through the
Veterans Legacy Memorial website
.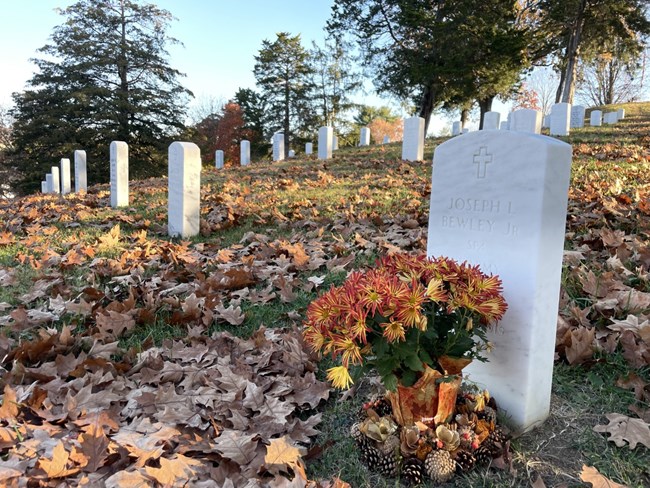 FLORAL REGULATIONS
The National Park Service is privileged to care for this very special place and is well aware of the confidence and trust that our veterans' families place in us. Please help us preserve the dignity and beauty of the cemetery by observing the following floral regulations:
Allowed
Fresh-cut flowers anytime
Metal temporary containers anytime
Artificial flowers and potted plants from November 1 through April 1
Christmas wreaths and floral blankets from December 15 through January 15
Flags, when place by the National Park Service for ceremonies within the cemetery
Not Allowed
Artificial flowers and potted plants from April 2 though October 31
Any floral items attached to headstones
Permanent in-ground containers
Breakable objects, plantings, statues, vigil lights, United States flags, or any decorations that are not floral
Floral pieces will be removed from the cemetery on the 1st and 15th of each month, or if they become unsightly. Park staff will hold removed artificial flowers and other commemorative or religious items that are placed on graves in violation of the conditions above for one month prior to disposal. Please contact park staff to assist you in searching for these items.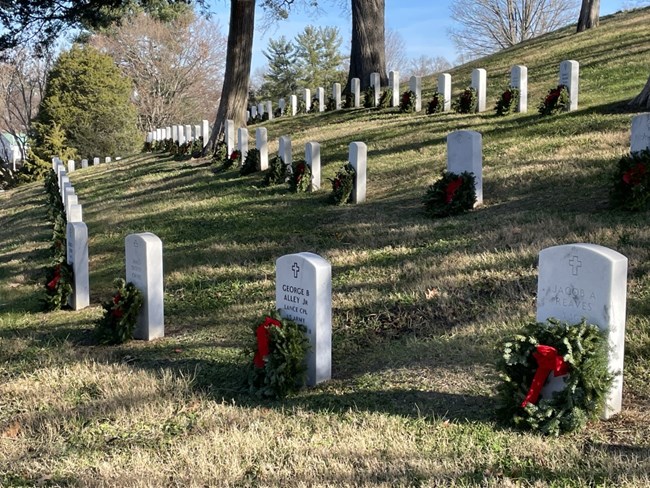 PAYING HOMAGE
The site recognizes the dedication and sacrifices of the nation's veterans and active military in two annual programs, Memorial Day and Wreaths Across America.
To recognize Memorial Day, Scouts BSA place a flag on every veteran grave and the Cemetery gates are open extended hours..
Wreaths Across America is held in December. A fir wreath with a red ribbon is placed on the graves in the National Cemetery by veterans and Junior ROTC students. During an impressive program, seven ceremonial wreaths representing each branch of military service, with the last recognizing POWs and MIAs, are placed near the flagpole that sits proudly on Monument Hill. They are carried by veterans along a walk flanked by Junior ROTC cadets. A moment of silence is followed by a 21-gun salute, then Taps is played. The mission of the Wreaths program is to "Remember, Honor, Teach."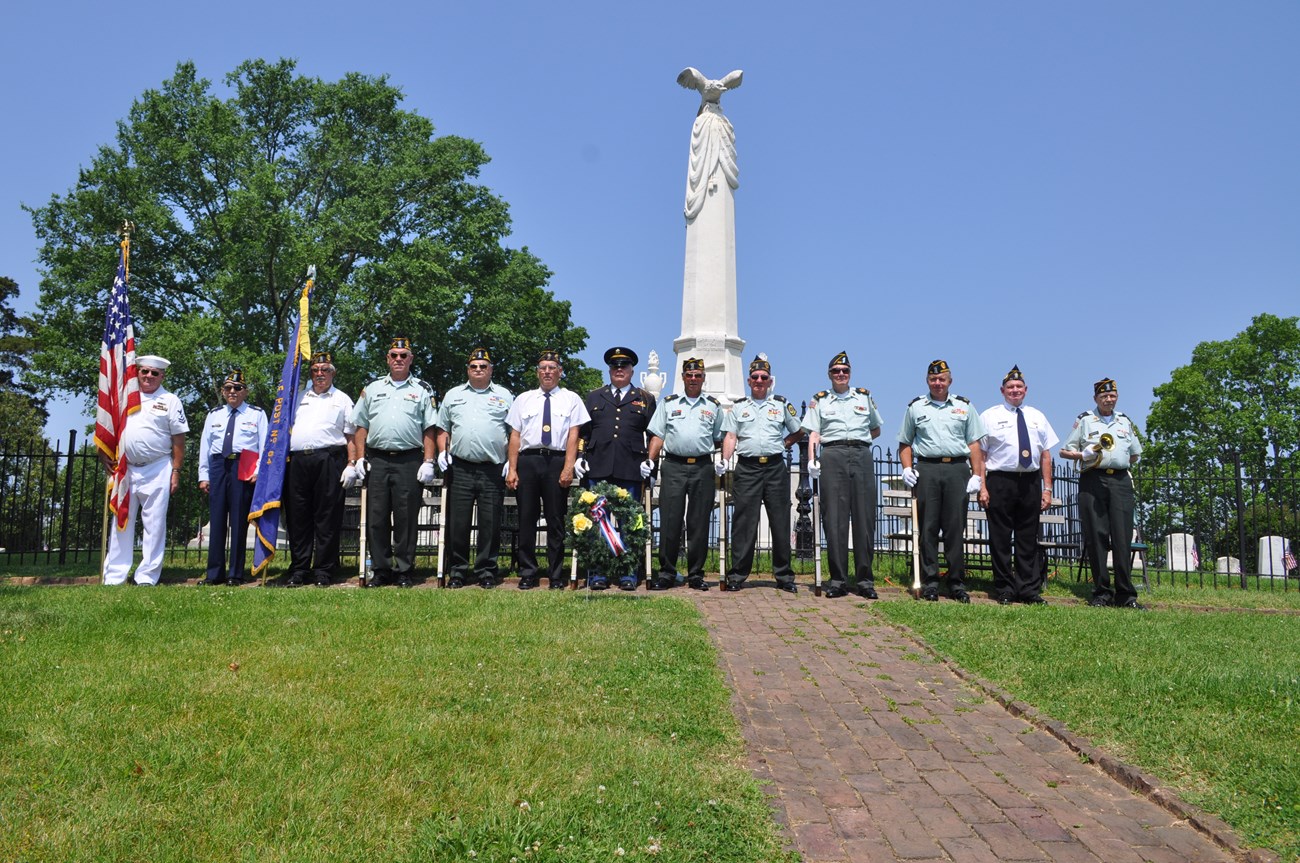 Last updated: November 4, 2022