Wreaths Across America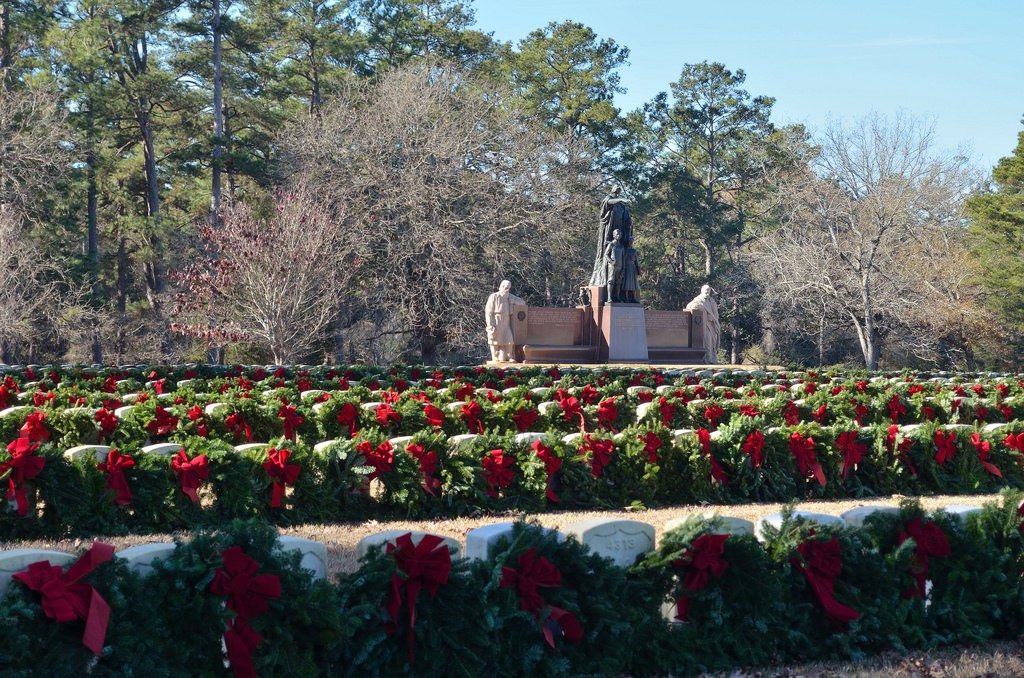 Each December Andersonville National Historic Site participates in the national Wreaths Across America program to remember and honor our military veterans. Wreaths sponsored through the nonprofit Wreaths Across America organization are delivered to and placed on gravesites in national cemeteries across the country, including Andersonville National Cemetery. Sponsored wreaths can be designated for placement on the specific grave of a loved one, or left undesignated and placed on one of thousands of gravesites that may never be visited or honored by a loved one.

Between 1,000 and 15,000 wreaths are donated for Andersonville National Cemetery each year. Our goal is to ensure that each of the over 20,000 gravesites in the cemetery is honored with a wreath at least once.
2020 Modified Event Information
Due to ongoing pandemic conditions, Wreaths Across America activities for 2020 will be modified to reduce the risk of spreading the coronavirus.

Placement of wreaths will occur at specified times throughout the day, with pre-registration needed. Priority will be given to those with family interred in the cemetery to ensure they have the opportunity to place a wreath on their loved one's grave. Registration is limited to 50 participants per time period with no more than 10 people per group reservation. Those who wish to place wreaths need to complete and submit a registration form, available here. Call 229-924-0343 or email ande_information@nps.gov for more information.

Entry into the national cemetery will be limited to the park's interior entrance, located near the Georgia Monument. Those placing wreaths should maintain at least 6 feet of social distance and avoid touching the same boxes as others. Gloves and face coverings are encouraged. Shuttles will not be provided.

No public ceremony will be held. A non-public ceremony to honor and remember those buried in the cemetery will be recorded and posted on the park's Facebook page. Playing of Taps, presentation of military service wreaths, and placement of wreaths on grave sites will be streamed live or recorded and posted on social media as well.
Honor the Forgotten - Sponsor a Wreath
Thousands of veterans buried at Andersonville seem forgotten, never visited by friends or family. Placing a wreath on their graves is a simple yet beautiful way to honor and remember the lives they lived and the sacrifices they made for our freedom.

If you, your family, organization, or business is interested in sponsoring one or more 20" Frasier Fir wreaths, please visit the Wreaths Across America page specifically for Andersonville National Cemetery.
Remember a Loved One
Beginning December 1, wreaths and floral blankets no larger than 2 feet by 3 feet are permitted in the cemetery. Please contact your local florist to order an appropriate floral decoration. Wreaths should be brought to the gravesite in person or delivered by a florist. To find the location of a specific grave, please visit the National Cemetery Administration's Nationwide Gravesite Locator.
Last updated: December 15, 2020