Wreaths Across America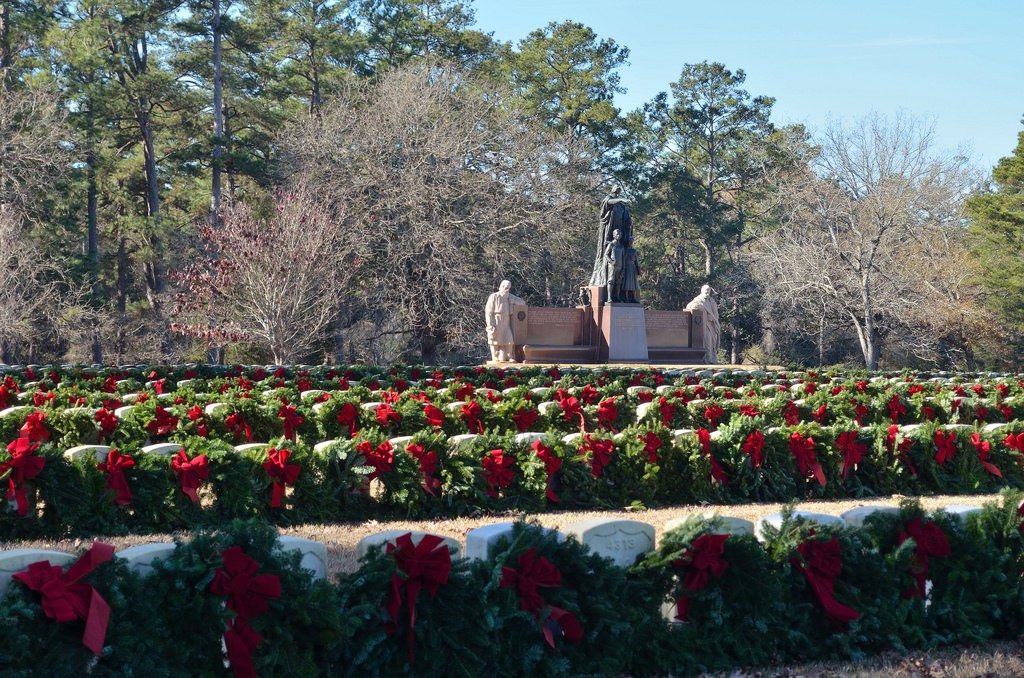 Each December Andersonville National Historic Site participates in the national Wreaths Across America program to remember and honor our military veterans. Wreaths sponsored through the nonprofit Wreaths Across America organization are delivered to and placed on gravesites in National Cemeteries across the country, including Andersonville National Cemetery. Sponsored wreaths can be designated for placement on the specific grave of a loved one, or left undesignated and placed on one of thousands of gravesites that may never be visited or honored by a loved one.

The next Wreaths Across America ceremony is scheduled for Saturday, December 19, 2020 at 12:00 p.m. After a short public ceremony to honor our veterans, visitors will be invited to help place wreaths on veteran gravesites.
Between 1,000 and 15,000 wreaths are donated for Andersonville National Cemetery each year. Our goal is to ensure that each of the over 20,000 gravesites in the cemetery is honored with a wreath at least once. To accomplish this, donated wreaths are placed sequentially and rotated from one section to another each year. For 2020, undesignated wreaths will be placed on a portion of Section H, sections G, Section P, Section A and B.

Honor the Forgotten - Sponsor a Wreath
Thousands of veterans buried at Andersonville seem forgotten, never visited by friends or family. Placing a wreath on their graves is a simple yet beautiful way to honor and remember the lives they lived and the sacrifices they made for our freedom.

If you, your family, organization, or business is interested in sponsoring one or more 20" Frasier Fir wreaths, please visit the Wreaths Across America page specifically for Andersonville National Cemetery.
Remember a Loved One
Beginning December 1, wreaths and floral blankets no larger than 2 feet by 3 feet are permitted in the cemetery. Please contact your local florist to order an appropriate floral decoration. Wreaths should be brought to the gravesite in person or delivered by a florist. To find the location of a specific grave, please visit the National Cemetery Administration's Nationwide Gravesite Locator.
Last updated: January 26, 2020