Weather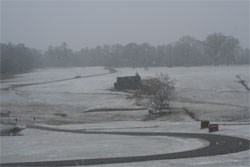 Climate at Andersonville can be extreme. Hot weather during summer includes temperatures in the 80s and 90s with high humidity, and cold during winter when temperatures tend to be in the 40s and below. Visitors should plan accordingly for extreme exposure while visiting outdoor components, and have layers for the cooler museum interior.
The warmest month of the year is July with an average maximum temperature of 91.10 degrees Fahrenheit, while the coldest month of the year is January with an average minimum temperature of 34.20 degrees Fahrenheit.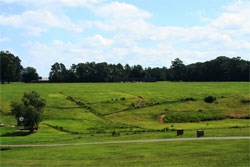 Temperature variations between night and day tend to be moderate during summer with a difference that can reach 22 degrees Fahrenheit, and moderate during winter with an average difference of 24 degrees Fahrenheit.
The annual average precipitation at Andersonville is 46.24 Inches. Rainfall is fairly evenly distributed throughout the year. The wettest month of the year is July with an average rainfall of 5.14 Inches.
Last updated: June 27, 2022