Staff Rides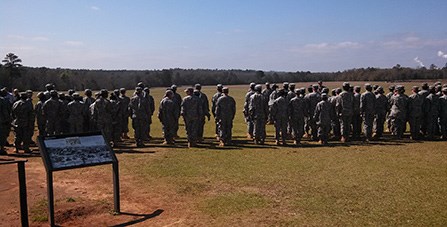 A military staff ride is a group exercise of three distinct phases: preliminary study, field study, and integration. It is designed for further the development of officers, in which each participant gives a briefing on plans, orders, events, decisions, and individuals.
By definition, the staff ride is to be conducted by the military participants and not by park staff. The following links give in depth information on the proper conduct of a staff ride and will help you prepare.
The Staff Ride by William Glenn Robertson
Historic Base Map showing the entire Camp Sumter military prison complex.
Historic Resource Study by Edwin C. Bearss. (Available upon request)
Staff ride participants can find other useful information on the History & Culture pages.
Park rangers stand ready to help members of the armed forces to learn valuable lessons from the experiences of prisoners of War at Andersonville. Contact us to schedule a staff ride and use the materials above to plan your staff ride experience.
Last updated: May 8, 2019