National Prisoner of War Museum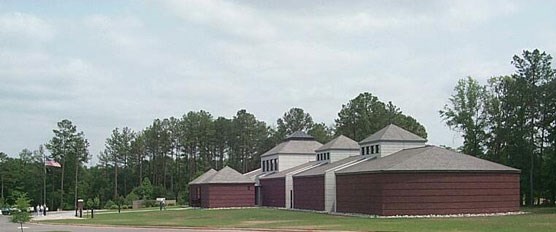 Opened in 1998, the National Prisoner of War Museum tells the story of prisoners of war throughout American History. This facility doubles as the park's visitor center and is the best place to begin a visit.
Introductory Films
Two films, shown on the hour and half-hour, provide an excellent introduction to the story of the Andersonville Prison and the experience of American prisoners of war.
"Voices from Andersonville"
Shown on the hour, this 28 minute film focuses on the history of the Andersonville Prison.

"Echoes of Captivity"
Shown on the half-hour, this 27 minute film is an introduction to the experience of prisoners of war throughout American history.
Exhibit Hall
The first exhibit gallery answers the question "What is a POW?" This is followed by exhibit areas exploring the themes of capture, living conditions, news and communications, those who wait, privation, morale and relationships, and escape and freedom.
Throughout the exhibits there are touchable items and exhibit drawers that may be opened to find out more about prisoners of war. In order to conserve the artifacts on display, the exhibit areas of the museum have reduced or dim lighting.
Last updated: April 14, 2015