National Prisoner of War Museum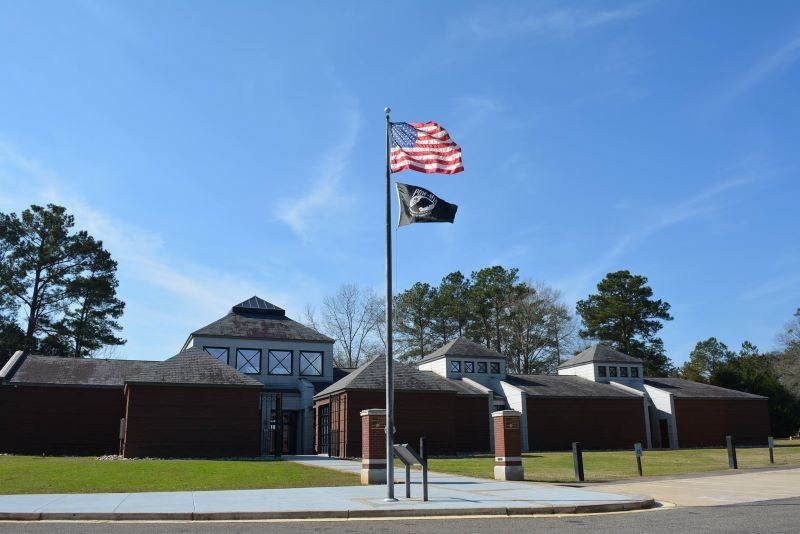 Opened in 1998, the National Prisoner of War Museum tells the story of prisoners of war throughout American History. This facility doubles as the park's visitor center and is the best place to begin a visit.

Former prisoners of war partnered with Andersonville National Historic Site to create and develop the National Prisoner of War Museum, the only museum solely dedicated to interpreting the American prisoner of war experience. The National Prisoner of War Museum is dedicated to all prisoners of war in America's past who have served their country with dignity and distinction, so that current and future generations will be inspired by their service and sacrifice.
Introductory Films
Two films, shown on the hour and half-hour, provide an excellent introduction to the story of the Andersonville Prison and the experience of American prisoners of war.
"Voices from Andersonville"
Shown on the hour, this 28 minute film focuses on the history of the Andersonville Prison.

"Echoes of Captivity"
Shown on the half-hour, this 27 minute film is an introduction to the experience of prisoners of war throughout American history.
Exhibit Hall
The first exhibit gallery answers the question "What is a POW?" This is followed by exhibit areas exploring the themes of capture, living conditions, news and communications, those who wait, privation, morale and relationships, and escape and freedom.
Throughout the exhibits there are touchable items and exhibit drawers that may be opened to find out more about prisoners of war. In order to conserve the artifacts on display, the exhibit areas of the museum have reduced or dim lighting.
Georgia World War II Heritage Trail
Andersonville National Historic Site and the National Prisoner of War Museum are proud partners in the new Georgia World War II Heritage Trail. Launched in February 2021, the Trail is made up of ten sites across the state, which together provide a new experience for visitors, families, and groups. Southern states were critical to the war effort during World War II (1941-1945), and none more so than Georgia. Over 300,000 Georgians served in the military, and thousands of civilians worked in rapidly expanding defense industries.
Trail visitors can take flight in a World War II airplane, build a Liberty ship, explore a pilot training base, march in the boots of the Band of Brothers, and learn the personal stories of courage, character, and patriotism displayed by the men and women involved. Suggested routes for North Georgia, Middle Georgia, and the Coast make it easy for visitors to experience two or three locations over a weekend. A Trail "passport" has been created so visitors can track their progress along the route, debrief their visit, and receive a confirmation stamp with the "V for Victory!" Discover Georgia's legacy of inspiring wartime stories at the sites that make up the new Trail. Visit the Georgia World War II Heritage Trail website to learn more!
Last updated: December 6, 2022