Memorial Day Observance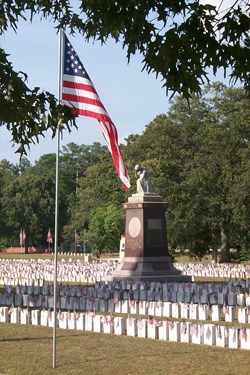 Memorial Day has long been the most important day of the park's event calendar, with preparations beginning months in advance, leading up to a week's worth of activity involving staff, partners, volunteers, and the American public.
Visit the Cemetery to remember their sacrifice.
---
Each year the park hosts a series of activities to commemorate the Memorial Day Holiday. Learn more about previous speakers at the Memorial Day Service.
On the Friday before the holiday, the Avenue of Flags is raised in the National Cemetery by Park Staff. Throughout the weekend, honor our veterans by visiting the National Cemetery.
The focal point of all these activities is the Sunday afternoon Memorial Day ceremony which takes place at the National Cemetery rostrum. The service traditionally includes a musical program, speaker, and the placement of memorial wreaths.
2020 Memorial Day Weekend Schedule
The National Cemetery is open for visitors throughout the weekend, from 8:00 a.m. to 5:00 p.m.
Last updated: May 8, 2020