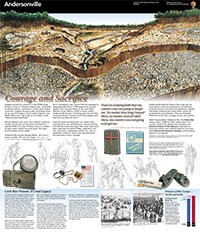 Brochures are made available upon request either by telephone, in writing or by e-mail.
---
Andersonville Map and Guide Brochure
Updated 2013
Established in 1970 Andersonville National Historic Site has three main features: the National Prisoner of War Museum, which also serves at the visitor center; the historic prison site; and Andersonville National Cemetery. This brochure serves as the main guide and map to the park and its features.
A braille version of the park brochure is available upon request.