Brochures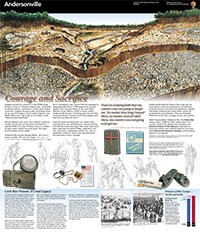 Brochures are made available upon request either by telephone, in writing or by e-mail.
---
Andersonville Map and Guide Brochure
Updated 2013
Established in 1970 Andersonville National Historic Site has three main features: the National Prisoner of War Museum, which also serves at the visitor center; the historic prison site; and Andersonville National Cemetery. This brochure serves as the main guide and map to the park and its features.
A braille version of the park brochure is available upon request.
Bibliography
A brochure containing a selected bibiliography for Andersonville and Prisoners of War throughout American History. Updated in December 2013
Site Bulletins
A site bulletin is generally a publication produced in-house by the park to provide an in-depth review of park related themes and topics.
---
When We Held Each Other Prisoner: 150th Anniversary Commemoration, January 2014-December 2015
Commemorating the story of the Andersonville prison presents a unique challenge. As opposed to a military action conducted over days or weeks, the Civil War prisoner of war story is a longer, more complicated tragedy measured, in the words of one prisoner, "by inches." Updated in December 2013.
Finding Your Connection: A Guide to Genealogical Research on Andersonville Prison
Every day visitors come to the park and inquire how they can learn more about their ancestors who were held, died, or worked here during the Civil War. This brochure explains the resources available at the park and provides advice on how to find out more information. Updated in April 2014.
Preserving the Prison; Saving a Nation: The Civilian Conservation Corps at Andersonville
In 1935 & 36, a Civilian Conservation Corps camp operated in what is now Andersonville National Historic Site; their work was critical in preserving the prison site. Updated in May 2012.
Independence Day 1864
Prisoner diary accounts of Andersonville on July 4, 1864. Updated in July 2012.
Illustrating Sacrifice and Courage: Telling the Prisoner of War Story Through Architecture, Art, and Sculpture
Updated in October 2012, this site bulletin explores how art, architecture and sculpture are used at the National Prisoner of War Museum to convey the prisoner of war experience to visitors.
Civil War to Civil Rights
For a century after the Civil War, Andersonville was a site and symbol of the struggle for equality for African Americans. Updated February 2013
Preserving Places of Captivity: Civil War Military Prisons in the National Parks
While Andersonville is the most famous Civil War prison, it is only one of many Civil War military prisons that are preserved by the National Park Service. Updated in August 2013
Clara Barton at Andersonville
After the Civil War, Clara Barton accompanied the U.S. Army's expedition to Andersonville to mark and identify the graves. Her work notifying the families of the dead and to raise public awareness about the prison has made her an integral part of the Andersonville story. New in March 2014.
"The Raiders"
In June of 1864, a gang of prisoners was raised at Andersonville to put an end to camp robbing. The "raiders" were rounded up and punished, and their story is one of the most misunderstood myths of the prison.
Los "Asaltantes"
Spanish language version of "The Raiders" site bulletin.
Omnipresent and Omniscient: The Military Prison Career of Henry Wirz
Learn more about the life and career of Captain Henry Wirz.

Last updated: January 18, 2018