Sundial Monument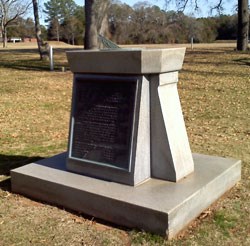 The sundial monument was dedicated on Memorial Day 30 May 1911 to commemorate the transfer of the prison park from the Woman's Relief Corps to the United States Army.
The design is of highly polished Barre granite with a bronze tablet on the front side and a bronze sundial on the top surface. On a clear day, one can note that the sundial displays Eastern Standard time with great accuracy.
The monument is located on the prison site about 60 feet south of the North wall and 165 feet east of the West wall.
Last updated: April 14, 2015