Witnesses Who Testified at the Trial of Henry Wirz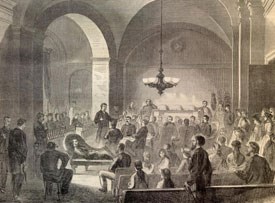 At the end of the Civil War, Captain Henry Wirz was arrested and prosecuted for his involvment at Andersonville. He was the most famous of the nearly 1,000 individuals to be prosecuted for violating the laws of war.
During his trial, more than 140 guards, Confederate officials, prisoners, civilians, and Federal officials testified about Wirz's management of the prison.
| | | | | |
| --- | --- | --- | --- | --- |
| Name | Prosecution or Defense | Unit | Union (U) or Confederate (C) | Pages |
| Wilson, Mark D. | P | n/a | U | 17-20 |
| Gibbs, Col. George C. | P | n/a | C | 20-26 |
| Bates, Dr. John C. | P | n/a | C | 27-43 |
| Barrows, Dr. A.V. | P | 27th MA Inf | U | 43-61 |
| Kellogg, Robert H. | P | 16th CT Inf | U | 61-66 |
| Alcoke, Thomas C. | P | 72nd OH Inf | U | 66-69 |
| Corbett, Boston | P | 16th NY Cav | U | 69-77 |
| Brown, Samuel D. | P | 101st PA Inf | U | 77-78 |
| Brown, Jaco | P | 101st PA Inf | U | 79-81 |
| Roy, Dr. G.G. | P | n/a | C | 81-85 |
| Vanderkieft, Dr. B.A. | P | n/a | U | 85-93 |
| Keyser, Joseph D. | P | 120th NY Inf | U | 93-99 |
| Persons, Alexander | P | 55th GA | C | 99-104 |
| Clark, Benhamin F. | P | n/a | C | 104-106 |
| Van Valkenburg, James | P | n/a | C | 106-108 |
| Castlen, Dr. F.G. | P | 3rd GA Res. | C | 108-109 |
| Spring, Andrew J. | P | 16th CT | U | 109-117 |
| Allen, Nazareth | P | 3rd GA Reserves | C | 117-120 |
| Heath, John F. | P | GA Reserves | C | 121-124 |
| Dillard, William | P | GA Reserves | C | 124-126 |
| Huneycutt, Calvin | P | GA Reserves | C | 127-130 |
| Mohan, James | P | 3rd GA Reserves | C | 130-132 |
| Hall, Samuel | P | n/a | C | 132-135 |
| Belcher, O.S. | P | 16th IL Cav | U | 135-140 |
| Davidson, James K. | P | 4th Iowa Cav | U | 140-146 |
| Wright, Capt. J.H. | P | n/a | C | 147-148, 233, 405-407 |
| Fannin, Col. James H | P | 1st GA Reserves | C | 148 |
| Hosmer, Major A.A. | P | n/a | U | 148 |
| Hall, Thomas | P | USMC | U | 148-151 |
| Balser, Dr. William | P | n/a | U | 151-152 |
| Clancy, James | P | 48th NY Inf | U | 152-154 |
| Fairbanks, Oliver | P | 9th NY Cav | U | 154-157 |
| Clark, Nelson J. | P | 7th PA VRC | U | 157-159 |
| Halley, P. Vincent | P | 72nd NY Inf | U | 159-161 |
| Kellogg, Edward S. | P | 20th NY Inf | U | 161-163 |
| Achuff, Joseph | P | 24th OH Inf | U | 163-169 |
| Bussinger, Daniel W. | P | 10th PA Res | U | 169-172 |
| Terrell, Horatio | P | 72nd OH Inf | U | 172-174 |
| Merton, Robert | P | 97th PA Inf | U | 174-176 |
| Maddox, Frank | P | 35th USCT | U | 176-181 |
| Adler, Joseph | P | 2nd MA Cav | U | 181-187 |
| Jennings, William H | P | 8th USCT | U | 187-188 |
| Way, Thomas N. | P | 1st OH Vols | U | 188-191 |
| Stearns, D.H. | P | 1st USS (Berdan's) | U | 191-193 |
| Kennell, Alexander | P | 7th OH Cav | U | 193-194 |
| Scott, William Willis | P | 6th WV Cav | U | 194-195 |
| Pond, L.S. | P | 2nd NY Hvy Art | U | 195-197 |
| Mundy, Rufus | P | 75th OH Inf | U | 197-198 |
| Kellogg, Abner | P | 40th OH Inf | U | 198-199 |
| Smith, Sidney | P | 14th CT | U | 199-200 |
| Brunner, Grotfeld | P | 14th CT | U | 200-201 |
| Horne, Thomas | P | 102nd NY Inf | U | 201-202 |
| Corrigan, Bernard | P | 2nd OH | U | 202-205 |
| Case, John | P | 47th NY | U | 205-206 |
| Richardson, Edward | P | n/a | C | 206-208 |
| Williams, Charles T. | P | 1st NY Cav | U | 208-212 |
| Tracy, Prescott | P | 59th NY | U | 212-217 |
| Crouse, William | P | 7th PA Res | U | 217-219 |
| Selph, C.M. | P | n/a | C | 219-233, 237-239 |
| Chandler, D.T. | P | n/a | C | 239-250 |
| Pasque, John | P | USS Wissahickon | U | 250-252 |
| Marshall, James | P | 42nd NY Inf | U | 252-254 |
| Peebles, William | P | n/a | C | 254-256 |
| Crandall, W.W. | P | 4th Iowa Inf | U | 256-262, 367-368 |
| Van Buren, Willis | P | 2nd NY Cav | U | 262-269 |
| Wilson, Maj-Gen J.H. | P | US Army | U | 269-276 |
| Welling, Lt. Col George | P | 4th KY Cav | U | 276-278 |
| Bradley, Patrick | P | 2nd MA | U | 278-279 |
| Fisher, John | P | 8th USCT | U | 279-280 |
| Lull, Henry C. | P | 146th NY Inf | U | 280-281 |
| De La Baume, Felix | P | 39th NY Inf | U | 282-287 |
| Hamilton, William John | P | n/a | C | 287-294 |
| Tibbles, Charles E. | P | 4th IA Inf | U | 294-298 |
| Goldsmith, John | P | 14th IL Inf | U | 298-301 |
| Culver, Jasper | P | 1st WI Inf | U | 301-309 |
| Kean, R.T.H. | P | n/a | C | 309-311 |
| Davenport, W.T. | P | n/a | C | 311-314 |
| Moore, Capt. James | P | n/a | U | 314-315 |
| Younker, John L. | P | 12th US Inf | U | 315-319 |
| Stone, James P | P | 2nd VT Vols | U | 319-323 |
| Conway, George | P | 3rd NY Art | U | 323-325 |
| Orcott, D.S. | P | 11th PA Cav | U | 325-326 |
| Bogle, Major Archibald | P | 12th USCT | U | 326-327 |
| Bull, William | P | Mean's Independent Loudon Rangers, VA (loyal) | U | 327-330 |
| Griffin, W.A. | P | n/a | C | 330-331 |
| Burns, James H. | P | 10th CT Inf | U | 331-332 |
| Thornburg, Dr. Amos | P | n/a | C | 332-343 |
| Blair, A.G. | P | 122nd NY Inf | U | 323-345 |
| Russell, Charles H. | P | 1st WI Cav | U | 345-347, 366-367 |
| O'Hare, Bernard | P | 6th NY Cav | U | 347-348 |
| Walker, John Burns | P | 141st PA Inf | U | 348-352 |
| Snee, Hugh R. | P | 39th IL Inf | U | 352-354 |
| Smith, Sidney B. | P | 26th AL | C | 354-355 |
| Spencer, Ambrose | P | n/a | C | 355-362 |
| Head, Dr. B.J. | P | n/a | C | 362-366 |
| Riker, Samuel | P | 8th NJ Vols | U | 366-369 |
| Smith, Charles E. | P | 4th US Cav | U | 36-371 |
| Dykes, Benjamin | P | n/a | C | 371-372 |
| Henman, Ambrose | P | 4th US Cav | U | 372-373 |
| Walsh, Thomas | P | 74th NY Inf | U | 373-376 |
| Hopkins, Dr. G.S. | P | n/a | C | 376-379 |
| Harrold, U.B. | P | n/a | C | 379-381 |
| Rice, Dr. G.L.B. | P | n/a | C | 381-383 |
| French, Capt. Wilson | P | 17th CT Vols | U | 383-384 |
| Griffin, J.R. | P | 8th GA Cav | C | 384 |
| Alden, J. Everett | P | 4th VT Vols | U | 384-388 |
| Tate, Robert | P | 52nd PA Vols | U | 388-390 |
| Andrews, Samuel J.M. | P | 17th ILL Inf | U | 390-391 |
| Francis, William B. | P | 75th OH | U | 391-393 |
| Cain, John A. | P | CA Cav Battalion | U | 393-396 |
| Gray, George W. | P | 7th IN Cav | U | 397-405 |
| Dyer, Lewis | P | 12th USCT | U | 405-413 |
| Crandall, W.W. | D | 4th Iowa | U | 413-416 |
| Marsh, Dr. M.M. | P | US San Commiss | U | 416-419 |
| Jones, J.B. | P | n/a | C | 419-421 |
| Cashmyer, Philip | P | n/c | C | 421-422 |
| Flewellan, Dr. E.A. | P | n/a | C | 422-425 |
| Hamilton, Rev. W.J. | D | n/a | C | 425-426 |
| Whelan, Rev. Peter | D | n/a | C | 426-432 |
| Fannin, Col. James H | D | 1st GA Res | C | 432-448 |
| Heath, John F. | D | 3rd GA Res | C | 448-451 |
| Castlen, Dr. F.G. | D | 3rd GA Res | C | 451-455 |
| Parsons, A.W. | D | 55th GA | C | 455-466 |
| Allen, Nazareth | D | GA Reserves | C | 466-471 |
| Flewellen, Dr. E.A. | D | n/a | C | 471-478 |
| Wright, Capt. JH | D | 55th GA | C | 478-490 |
| Hall, Samuel | D | n/a | C | 490-496 |
| Hammack, W.D. | D | 55th GA | C | 496-512 |
| Bardo, Vincenzio (aka GIUSEPPE BARDO) | D | 39th NY INF | U | 512-513 |
| Guscetti, Frederick | D | 47th NY Inf | U | 513-528 |
| Manoni, Antonio | D | 7th CT | U | 528 |
| Thuringer, Joseph | D | 18th Veteran Reserves | U | 529-530 |
| Moesner, Augustus | D | 16th CT | U | 536-557 |
| Fechtner, George | D | 1st KY Mounted Rifles | U | 557-585 |
| Gleich, August | D | 8th PA Cav | U | 585-588 |
| Harris, Martin | D | 5th NY Art | U | 588-604 |
| Roth, Frederick | D | 2nd NY Cav | U | 604-607 |
| Rawson, Mary | D | n/a | C | 607-608 |
| Richardson, Edward | D | n/a | C | 608-609 |
| Duncan, Rev. E.B. | D | n/a | C | 609-612 |
| Selph, Capt. C.M. | D | | C | 613-618, 702-703 |
| Jones, Dr. Joseph | D | n/a | C | 618-642 |
| Gilmore, Capt. Samuel | P | 39th IL Vols | U | 642-646 |
| Ruffun, Lt. Col F.G. | D | n/a | C | 646-651 |
| Kellogg, Robert H. | D | 16th CT | U | 651-653 |
| French, Major S.B. | D | n/a | C | 653-655 |
| Roy, Dr. GG | D | n/a | C | 656-658 |
| Armstrong, Capt James W. | D | n/a | C | 659-662 |
| Bates, Dr. John | D | n/a | C | 662-668 |
| Proctor, Maj George L | D | n/a | C | 668-672 |
| Dilley, Benjamin | D | 54th PA Inf | U | 672-683 |
| Hille, Frederick W. | D | 2nd DE Inf | U | 683-686 |
| Boate, Edward Wellington | D | 42nd NY Inf | U | 687-702 |
| Hunt, Samuel | P | | U | 703 |
| Wirz, Henry | - | - | - | 704-721 |
| Chipman, N.P. | P | - | U | 722-803 |
| Dr. Bates & Ford | | | | 803-805 |
| J. Holt | | | | 808-814 |
Last updated: May 8, 2019