Tennessee Monument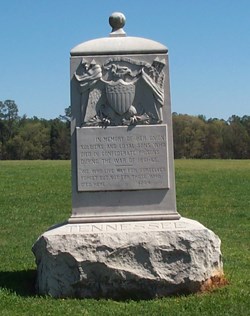 Unlike the other state monuments, the Tennessee monument was never authorized by any agency of the state government, nor for that matter, by the state Department of the G.A.R. Rather, individual G.A.R. members with the assistance of the Woman's Relief Corps organized a committee and raised the necessary funds for the monument.
The monument is located about 340 feet south of the North wall of the stockade and in line with the Rhode Island and Massachusetts monuments. It was dedicated at ceremonies conducted on 12 November 1915.
The rear panel contains the following statement: "THIS MONUMENT WAS ERECTED BY THE VOLUNTARY CONTRIBUTIONS OF THEIR SURVIVING COMRADES AND FRIENDS."
Last updated: April 14, 2015