Minnesota Monument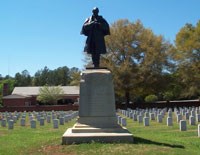 On September 26, 1916, ninety-five people from Minnesota dedicated a monument in Andersonville National Cemetery to soldiers from that state who died in Camp Sumter Military Prison. The group had been traveling together for days, stopping first at the national cemeteries in Little Rock, Arkansas and Memphis, Tennessee to dedicate exact replicas of the monument here at Andersonville. Although travelling such a great distance was far from easy in the early twentieth century, attendees expressed the belief that no amount of sacrifice would ever be enough to thank the men who lay in this cemetery after sacrificing everything.
The state of Minnesota appropriated funding for all three monuments in 1913, right in the middle of the fiftieth anniversary of the Civil War. They decided the monument would "consist of a statue of a young Union soldier of moderate heroic size in U.S. standard bronze, securely fixed on a granite pedestal." They originally planned to place this figure on a pedestal made of Minnesota granite, but they could not acquire enough granite just from Minnesota for all three monuments. Instead, the granite is from Vermont. The bronze statue wears his winter coat and straight-backed with his hat held over his heart, silently saluting his fallen comrades. Crossed ferns are carved just below him on the granite pedestal over the words:
ERECTED A.D. 1916 BY THE
STATE OF MINNESOTA
IN MEMORY OF HER SOLDIERS
HERE BURIED WHO LOST THEIR LIVES
IN THE SERVICE OF THE UNITED STATES
IN THE WAR FOR THE PRESERVATION OF THE UNION
A.D. 1861 – 1865
Although there is no other text on this monument, it does more than simply remember those Minnesotans who lost their lives at Andersonville. Calling the Civil War the "War for the Preservation of the Union" rather than the "War Between the States" shows a conscious effort by the state of Minnesota to remember not just the conflict itself, but one of the reasons for the war. By the fiftieth anniversary of the war, many people and groups chose to actively forget why they fought, choosing only to remember the valor of soldiers on both sides. The leaders in erecting this monument wanted to ensure that future generations remembered why their ancestors fought to preserve the Union.
Today, the Minnesota Monument sits just behind section B in Andersonville National Cemetery. Directly in front of the monument rest are graves of many unknown soldiers.
Written by Kim Campbell, July 2014
Last updated: April 14, 2015