Iowa Monument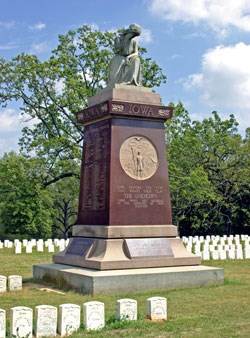 In 1904, the Iowa General Assembly appropriated $10,000 to build a monument at Andersonville "in commemoration of the patriotism, suffering and martyrdom of the Iowa soldiers who were imprisoned and died" at Camp Sumter military prison. Iowans were not alone in remembering the Civil War through memorials in the early twentieth century. As the country approached the fiftieth anniversary of the conflict, more and more veterans passed away. People who lived through the war began to fear that future generations would forget the conflict entirely in the reunited nation, so they spent considerable time and resources memorializing the events of the Civil War. The Iowa Monument at Andersonville is only one example of several at this site alone demonstrating that effort to remember.
At the Iowa Monument's dedication on November 17, 1906, Governor Albert B. Cummins of Iowa reminded the audience of the sacrifices all Andersonville prisoners made, not just those the monument is dedicated to. He said, "these boys suffered the unparalleled inhumanity of prison and the infinite cruelties of the stockade rather than surrender for a single moment their privilege to fight and die for the Union, and for the sovereignty of the old flag." His words show how important his generation believed it was to remember the suffering the Civil War caused.
A commission of veterans selected the design. The figure of a weeping woman kneels on top of the square red column, where she mourns the loss of so many lives. This south face of the monument includes the inscription,
IOWA HONORS THE TURF
THAT WRAPS THEIR CLAY
THE UNKNOWN
THEIR NAMES ARE RECORDED
IN THE ARCHIVES OF THEIR
COUNTRY
A relief above this inscription shows an Iowan infantryman, dressed for battle, in the fields of his home state. The north and west sides of the monument list the names of Iowans known to have died at Andersonville under the inscription "DEATH BEFORE DISHONOR," while the east side quotes Revelations 7:16-17.
All four sides include a smaller red tablet near the bottom, three of which include information about the people who erected the monument. However, former Andersonville prisoners believed the uncovering of Providence Spring was so important, that the tablet under the Bible verse remembers this event with the words, "GOD SMOTE THE SIDE HILL AND GAVE THEM DRINK, AUGUST 16 1864." Today, the Iowa Monument still stands in the National Cemetery surrounded by the Civil War burials in section K. This monument in particular remains a well-known symbol of Andersonville National Cemetery.
Written by Kim Campbell, July 2014
Last updated: April 14, 2015