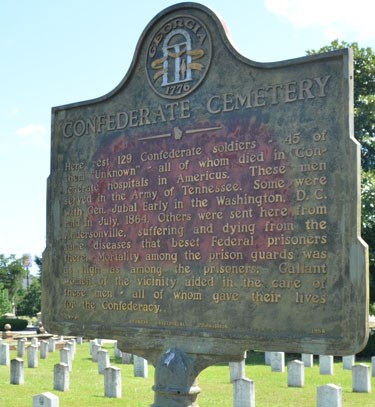 Like many misconceptions about Andersonville, this has its origins in the late 19th century when Southerners began to defend Andersonville in response to Northern politicians "Waving the Bloody Shirt" by using the memory of the atrocity at Andersonville as a political tool. Among these defenses of Andersonville emerged a comparison that sought to create an equivalency of experience and suffering between the guards and the prisoners. By arguing that the Confederate guards died at the same rate as the prisoners, Southerners could absolve themselves of charges of intentional negligence – everybody was suffering and dying.
This claim was rooted not in intentional deceit, but in a mathematical error. Some of the prisoner accounts indicated that they could see about 1,000 guards; and most accounts place the numbers of Confederate dead at around 250. These numbers were then used to calculate a death rate of 25% – very close to the 29% death rate of the prisoners. In a post-war climate where accusations about prisons continued to divide the country, this statistic became a standard line in the Southern defense of Andersonville.
The problem with this, however, is that the 1,000 figure is not accurate, and represents only a one time snapshot of the prison's operation. The regimental rosters for the units that served at Andersonville total more than 5,000, although the actual number present was likely smaller as Civil War units rarely boasted full strength at any one time. But we do know that there were more than 1,000 guards at Andersonville over the course of its operation. For example, on July 20, 1864, General John H. Winder reported on that there were 2,421 guards stationed at the prison, more than double the number usually used to calculate the guards' death rate.
Although the exact number of soldiers who served as guards at Andersonville is uncertain, the claim that guards died at the same rate as prisoners is simply incorrect. Even using the 2,421 guards present on July 20 yields a guard death rate of around 10%, well below the 29% death rate of the prisoners. Given that the total number of soldiers who served as guards during the prison's fourteen month existence is likely higher than 2,421, and that some estimates place the numbers of guard deaths lower than 250, it is quite possible that the guards' death rate could be well under 10%, an astonishingly low figure, especially for late in the war in the Confederate armies.