Flowers for Jennie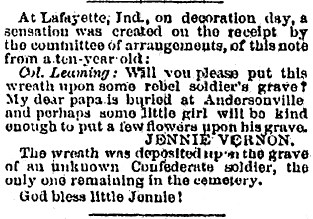 The tradition of annually decorating soldiers graves began in the years immediately following the Civil War. First suggested by the ladies of Columbus, Georgia in 1866, the custom went national in 1868 through the adoption of a May 30th date by the Grand Army of the Republic, a Union Veterans organization.
Like many communities throughout the nation, Lafayette, Indiana had been home to a military prison during the Civil War. In February 1862, Confederate prisoners of war, largely from the 32nd and 41st Tennessee Regiments, were held in warehouse buildings for about one month. Prisoners who died there during the prison's short-lived operation were buried in the Greenbush Cemetery. In the spring of 1868, the committee organizing the ceremony in Lafayette received a wreath from a local girl. Attached to the wreath was a short note:
Will you please put this wreath upon some rebel soldier's grave. My dear papa is buried at Andersonville, and perhaps some little girl will be kind enough to put a few flowers upon his grave.
Jennie Vernon
The wreath she provided was placed on a grave in the cemetery, and the story of her kind gesture was reprinted throughout the nation that summer.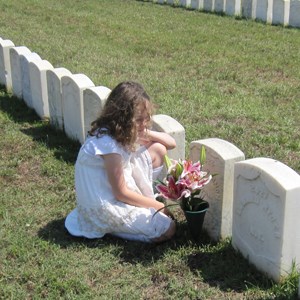 Twelve-year old Jennie Vernon was the daughter of Sergeant Samuel James Walker Vernon, Company K of the 7th Pennsylvania Cavalry. Sgt. Vernon was captured on October 17, 1863 carrying dispatches to General Sherman. He died on June 24, 1864 at the Camp Sumter military prison near Andersonville, Georgia. Sgt. Vernon is buried in Andersonville National Cemetery, in Section K, grave number 2428, in what is now Andersonville National Historic Site. Jennie Vernon married Dr. Charles Crain in Lafayette, Indiana on October 1, 1879, and resided there for the remainder of her life.
It is not known if Jennie's gesture was reciprocated in 1868. Her story had been forgotten until recent research into the origins of Memorial Day by Dr. Richard Gardiner of Columbus State University. Today, we remember Jennie Vernon's considerate act in memory of her father and all of the fallen soldiers of the Civil War, North and South.
Last updated: April 14, 2015