Myth: The Mystery of Felix de la Baume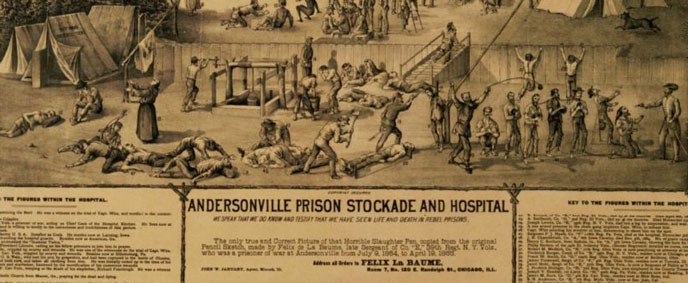 Few things in the history of Andersonville prison are as controversial as the Trial of Henry Wirz. Like most trials, efforts were made by both the prosecution and the defense to discredit key witnesses. Among these in the Wirz trial was Felix de la Baume. According to tradition, de la Baume was the star witness and his testimony was instrumental in convicting Wirz of the second of the two charges – murder.
However, de la Baume remains shrouded in some mystery. According to tradition he claimed to be related to Marquis de Lafayette and enthralled the courtroom with his flamboyant testimony and was even given a commendation for his testimony and a job with the Department of the Interior. But it was what happened after the trial that has led to the most controversy surrounding de la Baume. Mildred Rutherford, historian of the United Daughters of the Confederacy, told the story in 1921: "Eleven days after Wirz was hanged some German soldiers recognized in Lafayette's grand nephew a deserter from the Seventh New York Volunteers and his name was not de la Baume at all but Felix de la Baume Oesser, born in Saxony, on the German side of the Rhine. After this discovery he disappeared and was known no more."
There are several parts to the mythology of Felix de la Baume: First – He was really a deserter and was named Felix Oesser. Second – He was never at Andersonville prison and his testimony was a total fabrication. After his discovery as a deserter he disappeared. Third – He was the star witness of the trial and Wirz's conviction rested on this false testimony.

Who was Felix de la Baume? Felix de la Baume enlisted in Les Enfants Perdus regiment of independent infantry in New York in December 1862 and was discharged on disability at Fort Columbus in New York in March of 1863. Shortly afterwards he got in trouble with the staff at Fort Columbus over accusations that he forged documents related to his back pay. He then enlisted in the 39th New York Infantry, the famous Garibaldi guard, in November 1863. He was captured in Virginia in the summer of 1864 and was sent to Andersonville. There was also a soldier named Felix Oesser, who enlisted in the 7th New York in 1861 and deserted in February 1862. These two men are, in fact, the same person. Several newspapers reported shortly after the trial this discovery. For example, the Washington Evening Star reported on November 27, 1865 that "The German witness Beaume, who figured extensively in the Wirz trial, has been dismissed from the Interior Department, it having been shown that he was a deserter from the 7th New York (Steuben) regiment. His real name is Felix Oessel." Questions about de la Baume's identity had been raised before. In an interview with the Evening Star shortly before his execution, Wirz remarked that "The man who gave his name as Delabon, a grandson of Gen. Lafayette, will be found out to be a German Jew named Schaffer, a deserter from a New York Regiment." As it turns out, this part of the myth is actually true – he was a deserter from another regiment in 1862.

According to the regimental records of the 39
th
New York Infantry, a man going by the name of Felix de la Baume enlisted in November 1863, was captured in 1864 in Virginia, and was released in April 1865. The Confederate hospital record from Andersonville prison show a "de la Baun" from the 39
th
New York has being admitted for anasarca on April 13, 1865, shortly before his release.
During the Wirz trial testimony, Confederate surgeon Dr. John Bates noted that he remembered interacting with de la Baume in the prison. When prisoners congregated in Washington DC for the trial, a group formed called the Andersonville Survivors Association and de la Baume appears in some of their documents as a founding member. For several years after the war, his signature appears on some membership certificates. By the 1880s he was living in Chicago and earned a living, in part, by selling a large lithograph he produced of the prison that focused on the hospital site. His publicity agent during this time was John January, a known Andersonville prisoner. His status as a prisoner entitled his wife Lydia to a pension, which she applied for in 1920. Regardless of what name he went by with the 7
th
New York, it is clear from the primary sources that the soldier known as Felix de la Baume was an Andersonville prisoner and was recognized as such by both his fellow captives and his captors. Even well after the trial ended, de la Baume remained a public figure, and went by this name until his death in Chicago May 1890.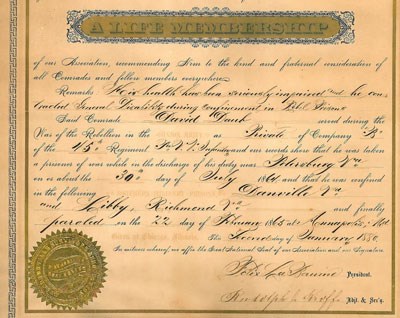 Later accounts place de la Baume as the star witness in the trial. The implication is that if he was a fraud, and he was the star witness, then the entire trial must be a farce. However, primary source material from 1865 does not support this notion that de la Baume was the star witness. In the prosecutions closing arguments, de la Baume was one of several witnesses whose testimony was retold. Perhaps more telling is that in Captain Wirz's closing statement he made a point to refute specific pieces of testimony that he thought needed to be addressed. De la Baume's was not among these.
None of this proves nor disproves de la Baume's honesty during the trial, nor does it prove or disprove anything about Wirz. However, it does reflect that the story of the Wirz trial and its participants remains one of the most challenging subjects of the Civil War. Most modern accounts of the trial reference back to the writers of the early 20th century like Mildred Rutherford, and accept their versions at face value. However, in the digital age, we have access to primary source records and materials from a wide variety of sources that earlier generations did not. It is through these that we can gain a new and deeper understanding of the Civil War prison story.

Last updated: April 14, 2015