Clara Barton Monument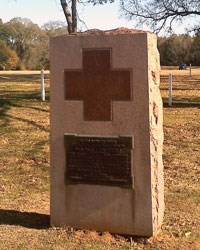 Clara Barton was instrumental in the successful effort to identify the graves of most of the dead at Andersonville and the establishment of the Andersonville National Cemetery.
This monument is a tribute to these efforts in particular and to her many services to the soldiers in general.
It was created in 1914 under the direction of the Woman's Relief Corps and was dedicated on Memorial Day 30 May 1915. It is located on the prison site near the North Deadline and about 105 feet east of the west wall.
Last updated: April 14, 2015