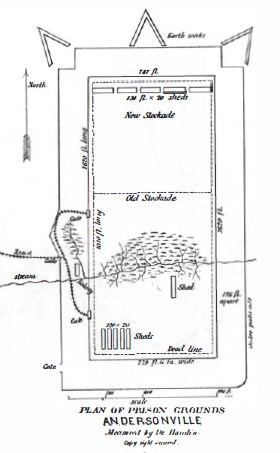 Commonly known as Andersonville, the military prison facility was officially named Camp Sumter, in honor of the county in which it was located. Construction of the camp began in early 1864 after the decision had been made to relocate Union prisoners to a more secure location. This decision was made because of the battles taking place near Richmond, VA where many prisoners were being held, and as a way to procure a greater food supply.
Camp Sumter was only in operation for fourteen months, however, during that time 45,000 Union soldiers were imprisoned there, and nearly 13,000 died from disease, poor sanitation, malnutrition, overcrowding, or exposure.
The prison site initially covered approximately 16 1/2 acres of land, which was enclosed by a fifteen foot high stockade wall. The prison was enlarged in June 1864 to 26 1/2 acres to compensate for overpopulation. The stockade was constructed in the shape of a parallelogram that was 1,620 feet long and 779 feet wide. Approximately 19 feet inside of the stockade wall was the "deadline," which the prisoners were not allowed to cross. If a prisoner stepped over the "deadline," the guards in the "pigeon roosts," which were roughly thirty yards, apart were allowed to shoot them.