Andersonville National Cemetery - "An Object Lesson in Patriotism"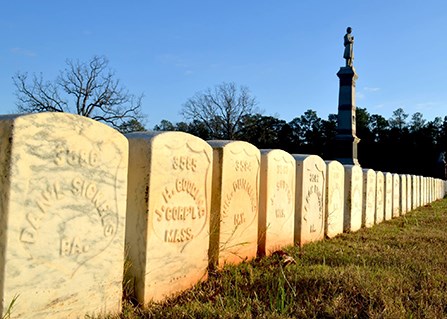 The National Cemetery, located 300 yards north of the prison site established in 1864, is an integral part of the significance of Andersonville Prison Site. The 12,920 men who died at the prison camp are buried in the cemetery. The first burial took place on February 27, 1864, only three days after prisoners first arrived. Graves for the Union prisoners were trenches 3 feet deep and between 100 and 200 feet long.
Following the end of the Civil War, the burying ground for the prison was designated an national cemetery on July 26, 1865. The cemetery is a 27.15 acre site, approximately 300 yards northwest of the prison site. Principal characteristics and features of the cemetery landscape include the 4-1/2 foot high brick wall that surrounds the site and is an integral part of both the aesthetic and historical scene; the regular and rhythmic rows of marble headstones; the large canopy trees; and the large monuments that are spaced around the entire site.
Since the 1870s approximately 7,000 American servicemen and their families have joined the prisoner burials and made Andersonville National Cemetery their final resting place. Their stories of sacrifice are separated by a hundred years in the history books, but at Andersonville their stories are separated by only a few hundred paces.
Last updated: September 4, 2022