American Indians at Andersonville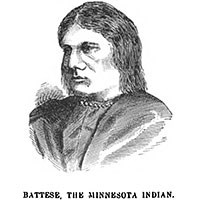 The Camp Sumter military prison, commonly called Andersonville, was built in 1864 to hold Union prisoners of war captured by the Confederate army. Soldiers and civilian support personnel from 26 states and the District of Columbia were imprisoned at Andersonville. This population, which numbered over 45,000 by the end of the war, reflected the diverse nature of the United States; in addition to men from several foreign countries and African-American soldiers was a small population of American Indian soldiers.
In prisoner John Ransom's post-war account of his prison experiences, his survival depended greatly upon his friendship with "Battese", who he described as a Minnesota Indian. It is likely that this name is an alias, as he cannot be located in an examination of Minnesota military records.
The largest identifiable group of American Indians held at Andersonville were members of Company K, First Michigan Sharpshooters. Company K was composed primarily of Native Americans of the United States, especially members of the Ojibwa, Odawa, and Potawatomi nations. Seven of these men perished while held prisoner, and are buried in the Andersonville National Cemetery. In 2010 a small group of American Indians of several tribes from Michigan paid tribute to these men.

Last updated: April 14, 2015