Join Our Friends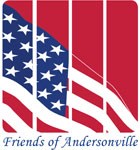 The Friends of Andersonville are an important partner of Andersonville National Historic Site and the National Park Service. They are a tax-exempt, non-profit corporation that helps support interpretation, education, and preservation issues at the historic prison site, the National Cemetery, and the National POW Museum. The Friends are a unique source of financial assistance for the park as the Friends' Trustees administer the Andersonville Trust, an endowment that serves annual grants to the park.
Anyone wishing to donate to the Andersonville Trust can do so. Please mail your tax deductible gift, made payable to Andersonville Trust, to:
Friends of Andersonville
Attention: Andersonville Trust
P.O. Box 186
Andersonville, GA 31711
For more information about the Friends of Andersonville, please contact them at the address above or you can visit their web site: friendsofandersonville.org .
Last updated: April 14, 2015