News Release
Plan Your Visit to the 2018 Anacostia River Festival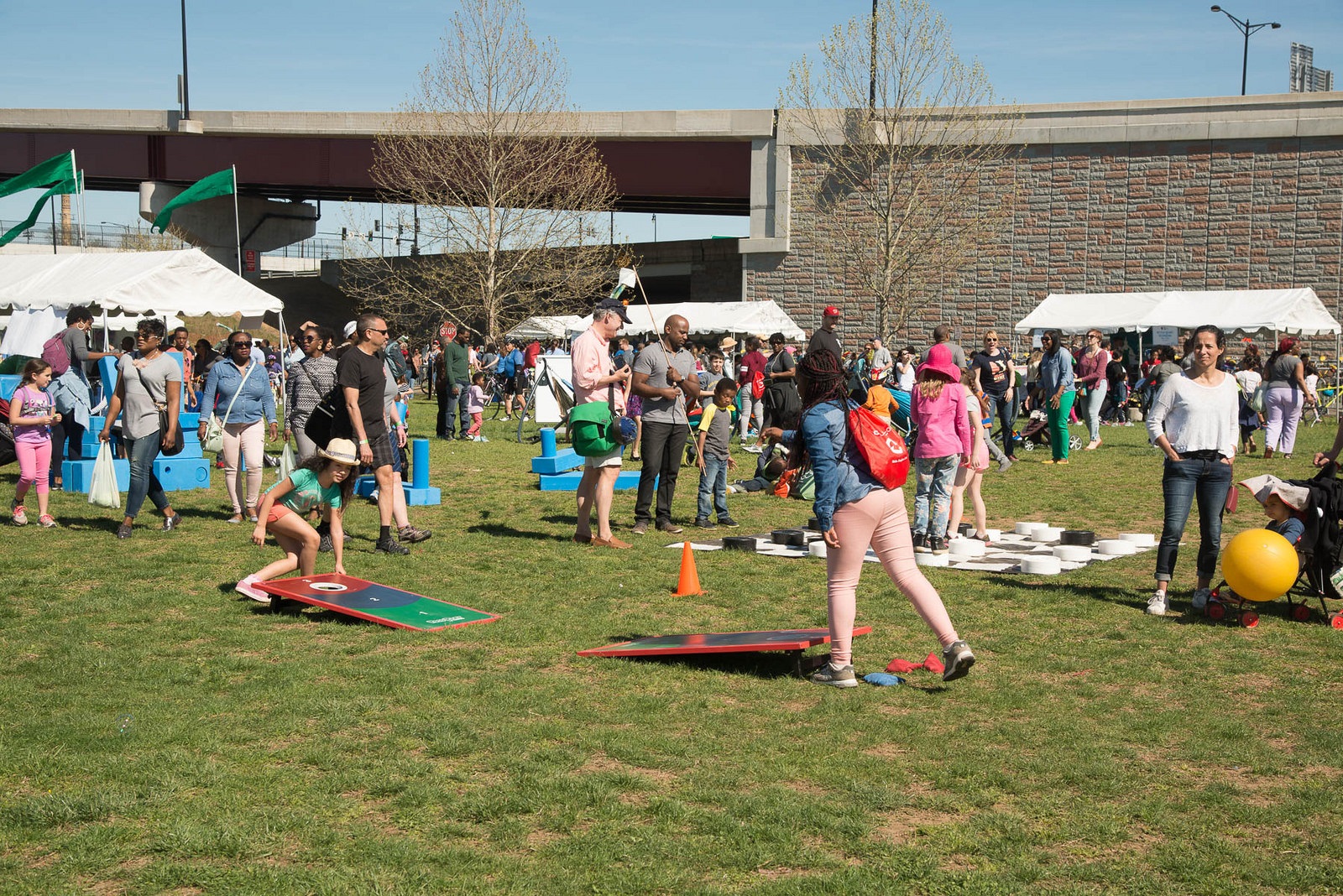 News Release Date:
April 9, 2018
Contact: Pya Langley, 202-619-7158
Celebrate the Anacostia River and the 100th Anniversary of Anacostia Park
WASHINGTON—The National Park Service and the 11th Street Bridge Park present the fourth annual Anacostia River Festival, a premier event and the official closing of the National Cherry Blossom Festival. This year, we will celebrate the 100th Anniversary of Anacostia Park and the Year of the Anacostia, a yearlong invitation for everyone to come together to honor history, celebrate progress and enjoy the Anacostia River and its surroundings as we envision an inspiring future.
Anacostia River Festival
When: Sunday, April 15, 2018; 1 - 5 p.m.
Where: National Park Service's Anacostia Park at Good Hope Road & Anacostia Drive SE
Who: FREE and open to the public.
For more information: bridgepark.org/ARF
What's Happening:
In the Park and On the River
Festival-goers will enjoy canoeing, fishing lessons, boating, lawn games and more. The festival will feature a community bike parade, special live performance of The Wiz, family friendly arts and crafts, storytelling, and live music and performances. Participants eager to join the 3 p.m. bike parade should begin lining up at 2:30 p.m. by the bike valet. River activities will be first-come, first-serve, sign up at tent #1.
On Good Hope Road
Visit local businesses at the East of the River Artist Market curated by Nubian Hueman, where Ward 7 & 8 artists will showcase their talents, goods and fashions. Enjoy art activities, delicious food and live music.
In Historic Anacostia
The Anacostia Arts Center will host live music, fashion, art, activities and exhibitions. Enjoy floral workshops at the Honfleur Gallery and explore the MLK Gateway with The Mentiki Group and Enlightened, Inc.
In Capitol Hill/Navy Yard
Eastern Power Boat Club, 1301 Water Street SE
With just a short walk over the 11th Street Bridge, Boathouse Row will host boat cruises on the river from 1 to 4 p.m. More information and registration for the cruises can be found at tent #1 in the park.  
Getting There:
Festival attendees should be aware that the Nationals will be playing a home game at Nationals Park and are encouraged to take public transportation and plan accordingly.
Metro
Anacostia Station (green line). Exit toward the parking garage to walk to the festival (approximately 7 minutes).
You can take a free shuttle from the Anacostia Metro Station near the Howard Road exit or from Eastern Market Metro Station (orange/blue/silver lines) to the festival site.
Bike Access
Capital Bikeshare service is available at Anacostia Metro Station, Good Hope Road SE across from the Anacostia Arts Center and at Anacostia Park Recreation Center. Free bike valet available.
Parking
Free parking is available at Anacostia Metro Station and at the Anacostia Skating Pavilion (1500 Anacostia Drive SE). Paid parking lots are available in the Anacostia neighborhood and Navy Yard.
What to Bring:
Visitors are encouraged to bring water or fill their reusable water bottles at free filling stations. There will be food for sale at stations throughout the park, but feel free to bring a picnic or snacks. Blankets or lawn chairs are encouraged to watch stage performances. Dogs on leash are allowed in Anacostia Park and owners are responsible for picking up waste. Participants in the bike parade need to bring their own bike and helmet.
What Not to Bring:
No alcohol is allowed in Anacostia Park.
The Anacostia River Festival focuses on the improving health of the Anacostia River and the exciting experiences you can have in Anacostia Park and on the river. This FREE event held in Anacostia Park welcomes District residents and visitors alike to communities and parks east of the river. In 2017, the Anacostia River Festival attracted nearly 10,000 people to Anacostia Park.
###
About the Anacostia River Festival
The Anacostia River Festival is presented by the National Park Service and the 11th Street Bridge Park in partnership with the National Cherry Blossom Festival. The Anacostia River Festival is supported in part by Bloomberg and Linder Global Events. Other supporters include EventsDC; TD Bank; The Kresge Foundation; Educational Foundation of America; DC Office of Cable Television, Film, Music and Entertainment; PepsiCo. Recycling; The Yards; WC Smith; City First Bank of DC; JBG SMITH; Kaiser Permanente; LISC DC; Mil & Doreen Parekh; TCMA for Ronald Reagan Building and International Trade Center; Western Development; Enlightened, Inc.; The Menkiti Group; MRP Realty; and RMA.
About the National Park Service
The National Park Service cares for 417 national parks across the country and offers interesting history and outdoor fun for everyone. Visit us at www.nps.gov for more information.
Anacostia Park is a signature urban park that improves people's lives and protects the quality and resiliency of the Anacostia River ecosystem. The park provides inspirational natural spaces easily accessible to area residents and visitors and offers a wide range of recreational and educational opportunities. To learn more about Anacostia Park, visit www.nps.gov/anac.
About the 11th Street Bridge Park
The 11th Street Bridge Park, a project of Building Bridges Across the River, will be Washington, D.C.'s first elevated public park located on the piers of the old 11th Street Bridge spanning the Anacostia River: a new venue for healthy recreation; environmental education and the arts. Visit bridgepark.org for park renderings, upcoming events/tours and our equitable development strategies - our effort to ensure local residents can thrive in place.
About the National Cherry Blossom Festival
The National Cherry Blossom Festival is the nation's greatest springtime celebration. The 2018 Festival, March 20 – April 15, includes four weeks of events featuring diverse and creative programming promoting traditional and contemporary arts and culture, natural beauty, and community spirit. Visit nationalcherryblossomfestival.org or call 877.44.BLOOM for more information and find us on Facebook (@CherryBlossomFestival), Twitter (@CherryBlossFest), and Instagram(@CherryBlossFest).
Last updated: April 9, 2018