Summer 2018 Youth Employment Opportunities
DC Summer Youth Employment Program
During the summer of 2018 National Capitol Parks East will hire approximately 18-25 youth through the DC Summer Youth Employment Program (SYEP). This is a program funded by the city of DC that places youth ages 14-24 in jobs in DC. We plan on hiring six youth to work in the maintenance division. They will help with trash removal, grounds keeping, and other maintenance jobs here in the parks. There will be approximately six youth who will work in the skating pavilion. Their duties will include handing out skates, repairing skates, and helping out the park staff with various programs and projects. We will hire 4-6 youth to work in the interpretive division. They will work at Kenilworth Aquatic Gardens, Frederick Douglass National Historic Site, The Carter Woodson Home, and the Mary McLeod Bethune Council House. The workers will assist the Park Rangers with operating the information station and they will develop and lead tours of the sites. We may hire for other positions such as front desk attendant at park headquarters, outdoor educator at the Urban Tree House, and place more workers with maintenance staff as needed.

Contact Julie Kutruff at julie_kutruff@nps.gov to find out more.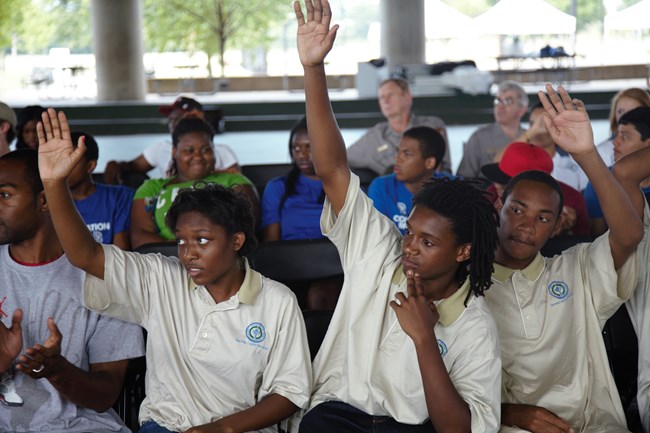 Youth Conservation Corps (YCC)
This is a 6 week program for youth age 15-18.The crew will work in the Fort DuPont area and will do trail work, trash removal, and help with special projects as needed.

We will be taking applications in the spring of 2018. For more information about our YCC program email us.
Download the YCC application.

Mail completed applications to:
Anacostia Park
Attn:Julie Kutruff
1900 Anacostia Drive SE
Washington, DC 20020
Discover more job opportunities in Anacostia Park by visiting our "Work With Us" page.
Last updated: February 13, 2019