Things To Do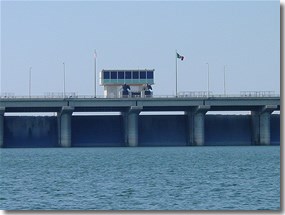 Even if you don't own a boat, Amistad offers a variety of activities for everyone.
Visit Amistad Dam
Visitors can drive to Amistad Dam for a great view of Lake Amistad. Because the Amistad Dam is an official Port of Entry, visitors wishing to cross any portion of the dam are required to have a valid passport with them. For hours of operation for the Port of Entry, please visit US Customs and Border Protection.
The International Boundary and Water Commission operates Amistad Dam.
Tours are not offered.
Picnic, Swim, or Walk by the Water
Eight picnic areas can be found in the park. Governors Landing has a day-use area for picnicking, swimming, and enjoying a walk by the water. Visitors can swim anywhere in the lake, except in coves with boat ramps or marinas.
Rent a Boat
Currently, there are no boat rental services at Amistad National Recreation Area.
Take a Scenic Drive
At Diablo East, the unpaved Viewpoint Road offers sweeping views of the lake and has good spots for picnicking, swimming, and scuba diving.
Tent or RV (Dry) Camp
Amistad national Recreation Area maintains five primitive campgrounds located throughout the park.
US Military
Active and retired military have exclusive access to Southwinds (US Air Force) Marina located off the road to Amistad Dam.


Last updated: June 1, 2022