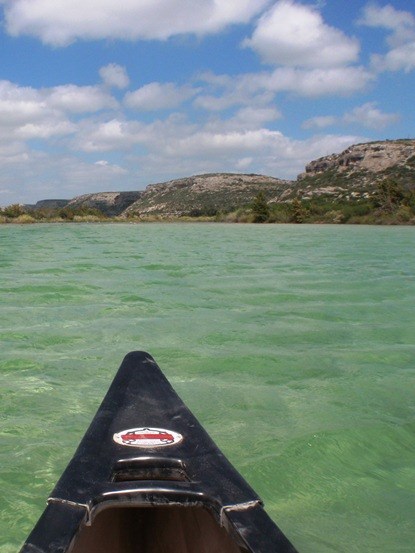 Amistad Reservoir has plenty of wide-open water as well as steep-walled river canyons, making it a great place for paddling a kayak or canoe. The following routes are suggestions only; they are not marked on shore or in the water.
Important: Be sure to bring plenty of drinking water, a large brimmed hat for shade, sunglasses, a long sleeved shirt and pants. Please be environmentally conscientious and pack out all of your trash. Do not use glass containers. Remember that all things living and nonliving are protected under federal law. Take only pictures, leave only footprints.
Remember: Cell phone coverage is very limited. Also, park rangers cannot respond for assistance if you get stranded on the Mexican side of the reservoir.
Winds typically average 15-20 mph, but 20-30 mph winds are not uncommon. Winds are typically from the south or southeast; however, north winds can occur (especially in the fall and winter), but usually do not last more than a day or so. Visit our Current Conditions page for current water levels, river flow links, and weather forecasts.