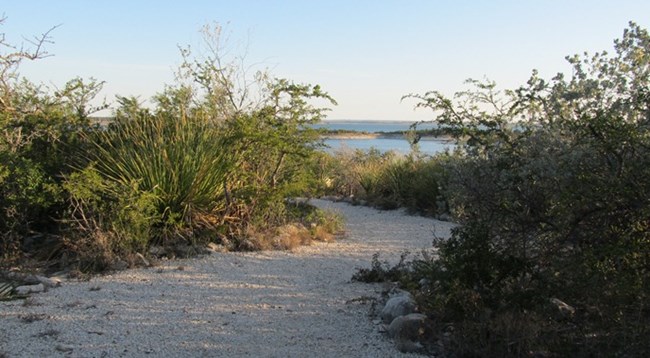 Amistad National Recreation Area offers hikers a number of trails to explore, whether you are interested in just a short walk or a more ambitious hike.
A short interpretive nature trail can be found at Diablo East. Here you will learn about a variety of plants and enjoy sweeping views of Lake Amistad. Print your copy of the Diablo East Trail Map.
The Sunrise Trail is 1.5 miles long and connects the park Visitor Center with Spur 454. Located on the old Brite Ranch, you will see a large variety of plants and birds while hiking. There are benches so you may sit and enjoy the sweeping views of the lake. Also available for printing is a copy of the Sunrise Trail Map.
At the Pecos, you will find a short interpretive nature trail along the Pecos River. Enjoy views of the Pecos River, its cliffs and a wide variety of plants.
The Figueroa Trail is actually a series of trails that comprise the longest section in the recreation area. Located on the old Figueroa Ranch, these rolling trails will take you through desert and shrubland plants, while providing views of the lake and the dam. A printable Figueroa Trail Map is also available.
Be sure to have a copy of Amistad NRA's Official Map and Guide, which shows the park's boundaries, since hiking on adjacent private land is not permitted. Text only descriptions of the maps are located at the bottom of this page.