Directions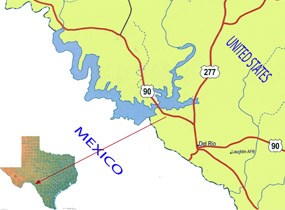 Getting There
By Car
Amistad National Recreation Area is located on the US-Mexico border near Del Rio, Texas. The park is 160 miles west of San Antonio on US 90, and about 230 miles east of Big Bend via US 90 and US 385. Access to Amistad from the north or south is via US 277/377.
By Train
Rail service is available in Del Rio (DRT). The Station Building is located at 100 North Main Street. Contact Amtrak for specific schedules.
By Plane
The nearest airports to Amistad National Recreation Area include: San Antonio (SAT), San Angelo (SJT), Midland (MAF), and El Paso (ELP).


Last updated: May 10, 2023