Management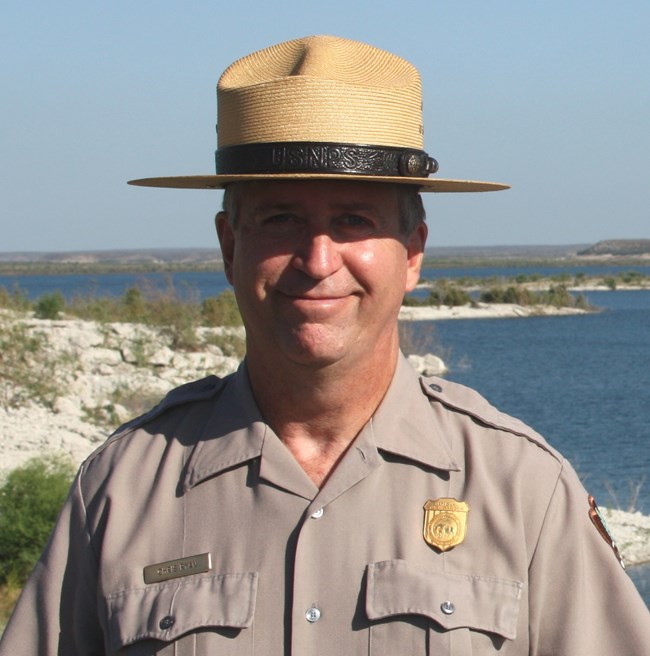 Superintendent's Letter
Welcome to Amistad National Recreation Area! I have been the Superintendent here since August of 2015. This unit of the National Park Service is a real treasure.
My staff is working hard to improve visitor services so you can enjoy your visit to the fullest! One of our top priorities is to upgrade the five comfort stations (restrooms) in the recreation area, which have a major impact on a visitor's experience in the park.
The two restrooms at Diablo East and the upper restroom at Rough Canyon have already been renovated. These facilities meet energy efficient mandates, Americans with Disabilities Act mandates, and all new building life, safety & health codes.
The restrooms now have baby-changing stations, waterless urinals, low-water use toilets, and energy efficient lights. These projects have been paid for using monies from Lake Use Passes and funding from the National Park Service Regional Office in Denver, Colorado.
New park signs are being installed throughout the recreation area to replace those that are worn out and faded by the intense sun. Some of the improvements on the shoreline have included adding an extension to the boat dock at the Rough Canyon boat ramp, a new courtesy boat dock at the Box Canyon boat ramp, and the removal of approximately 1,300 tires from a cove at Diablo East.
There is never a shortage of work to do and our intention is to continue to make improvements for the enjoyment of present and future generations of park visitors.
Amistad National Recreation Area is rich in cultural history. There are opportunities for boating, fishing, rock-art viewing, waterskiing, scuba diving, hiking, and hunting. With all there is to offer, Amistad is truly an amazing place!
I hope you get the chance to visit your national park first hand and experience what it has to offer. For help planning your visit, continue to explore our website or call our visitor center at (830) 775-7491.
Chris Ryan


Last updated: July 10, 2019