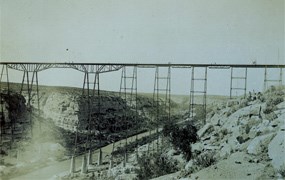 The Pecos High Bridge may be the most famous of all the historic bridges in Texas. In 1892, it held the distinction of being not only the highest bridge in the United States, but also, at 322 feet 10 3/4 inches in height, the third highest bridge in the world. Strengthened in 1910 and 1929, this bridge was in continuous service as part of the nation's first southern transcontinental railroad until it was replaced by a newer one during World War II. Known to railway historians as the Pecos Viaduct, this bridge was the second across the Pecos and was designed to solve a host of problems that had plagued the Galveston, Harrisburg and San Antonio Railway since the line opened in 1883.

The crossing of the Pecos River had been the single biggest engineering obstacle encountered during construction of the Texas leg of the first southern transcontinental railroad. The first crossing was accomplished by using a simple iron "fair-weather" truss-bridge, located at the bottom of the canyon at the confluence of the Pecos and the Rio Grande.
The track winding down into and out of the canyon to the first bridge left the flat uplands 5-6 miles distant from either side of the bridge. Following the sinuous canyon rim in a series of curvy and steep grades crossing numerous deep intervening side canyons, the track descended to the bridge. In some sections the grade consisted of no more than a narrow ledge blasted into the towering cliff walls. So prone were these to rock falls that the railway company had to employ "track-walkers" both night and day to prevent derailments caused by obstacles on the road bed.

The first crossing of the Pecos River had been incredibly expensive to construct and was proving to be quite costly to operate and maintain. Steep grades and degrees of curvature combined to impose severe length and weight restrictions on all trains using this section of track. It was necessary that two tunnels -both in excess of 1,500 feet in length- be blasted through solid rock. In addition, 3,600 feet of wooden trestle and 2,730 feet of iron trestle works were also required. Perhaps the most significant aspect was that the original configuration of the route effectively limited future profitability at a time when trains were getting longer, larger, and carrying greater weights.