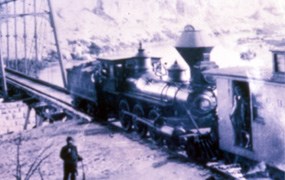 At the end of the Civil War, 90% of all railroad tracks in the United States lay east of the Mississippi River. As a result, President Lincoln signed into law the Pacific Railroad Act in 1862 (Briggs 1974:7). On January 1, 1863, ground was broken at Sacramento, California for the building of the first transcontinental railroad; the Central Pacific from Sacramento and the Union Pacific from Omaha Nebraska (Elliot 1928:2). On May 8, 1869, these two rail lines were joined with a gold spike at Promontory Point, Utah creating the first transcontinental railroad.
The driving force of the "Big Four" (Potter Huntington, Leland Stanford, Charles Crocker, and Mark Hopkins) that made the first transcontinental railroad a reality was also responsible for the completion of the southern transcontinental line in 1883 (Elliot 1928:3) which passed through today's Amistad Reservoir basin. Several miles of old grades, foundations for trestles and spans, and railroad tunnels are visible to today's visitors to Amistad National Recreation Area. Many of these historic features however, are located on private property within 100 feet of the park's current boundary.
Railroads came into existence in Texas in 1851 with the formation of the Buffalo Bayou, Brazos, and Colorado Railway (Patterson 1980:8). Several earlier attempts to construct lines had failed due to lack of support by the government of the Republic of Texas (Elliot 1928:30). In time, the Texas Legislature would later approve giving railroad companies 16 sections of land per mile of completed track as an incentive (Comstock Study Group 1976:22).
In 1870, the Buffalo Bayou, Brazos, and Colorado Railway was purchased by Thomas Pierce and Associates who changed its name to the Galveston, Harrisburg, and San Antonio Railway Company (GH&SA). The GH&SA completed a line from Houston to San Antonio in 1877 and gained additional charter rights to extend its lines to the Rio Grande (Labadie 1987:10). Pierce however, lacked the financial resources to continue the line to the Rio Grande. Meanwhile, because they had ample finances, the Southern Pacific was trying to obtain a charter to construct lines in Texas. By late 1877, Pierce's charter and Huntington's finances produced an agreement which would allow Southern Pacific to lay track in Texas (Briggs 1974:13).