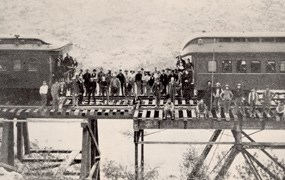 The Western Division was responsible for construction and track laying from El Paso to the mouth of the Pecos River, the point where railway officials decided the west and east sections of tracks would be joined with a silver spike. James H. Strobridge, a seasoned veteran of Southern Pacific Railroad construction in California and Arizona, supervised the work of the Western Division from Sierra Blanca, Texas to the Pecos River. Strobridge, while a construction superintendent for the Central Pacific in the 1870s, had supervised Chinese crews involved with shoveling, surfacing, grading, hauling fill, driving carts, and digging on softer excavations. At peak construction in January-February 1882, Strobridge's Western Division was pushing to complete the last 20 miles of track and employed upwards of 7,000 people, 6,000 of whom were reported to have been Chinese laborers. Once the line was completed in 1883, most of the Chinese laborers eventually went back to California after working in the Mojave Desert on a branch line to tap the Arizona and Pacific Lines. Only a handful of the Chinese workers remained in Texas.

At this time much of the construction work on the U. S. rail system was done by Chinese immigrants. But most of what we know about their contributions is restricted to period literature about areas in California, Nevada, and Utah. Except for a few comments in regional newspaper articles in Texas from 1881-1883, very little first-hand information exists on the Chinese crews that worked for Strobridge's Western Division. What information we do have on such crews in the Lower Pecos area comes primarily from archeological investigations of railroad construction camps (Briggs (1974) which located Chinese artifacts.

Strobridge's Western Division was modeled after the Central Pacific's operations in central California, Nevada, and Utah which had been part of the larger Central Pacific-Union Pacific Transcontinental network. Due to a reported inability to secure white laborers on the Central Pacific lines, Chinese laborers, by default, became an integral part of the first transcontinental often outnumbering non-Chinese construction crews by more than a 3-to-1 ratio (Reed 1870). E. W. Reed, Superintendent of the Utah Division wrote, in 1870:

"I have on my two divisions about 250 Chinamen. I never saw a better working gang of men than they are. They are a class of people that do not drink and you can depend on them every day unless they are sick. The only place that I see that they are not equal to white labor is in the loading and handling of iron on cars. But for shoveling, surfacing, track-spiking, loading ties or making embankments, they are equal to whites. We pay them $31.00 per month for 26 days work and they board themselves and pay freight that is shipped over the road to them" (Reed 1870).