Park Tours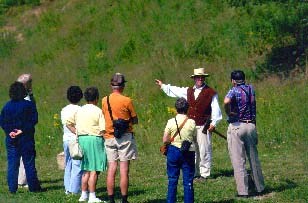 Most park visitors go on a self-guided exploration of the park. A stop in the visitor center will get you started with the park film as orientation. The visitor center is where you present your park pass or pay your entrance fee. The walk from the visitor center to the historic area is 200 yards in length.
Group Tours
Special programs for school groups and scout groups can be arranged. Other tours may be scheduled depending on staff available and group needs. Please call the park at (814) 886-6150 for information and to pick a date for your group visit.
Special Events-Summit Tours
October 'ghost' tours are common thanks to our park volunteers. Please check out events calendar for the dates of ghost tours and other special events. Special event tours may have a per person fee with no waivers for passes or ages under 16. Reservations are usually required due to space limitations.
Special Events- Other Tours
Van or bus tours, guided hikes of various park trails, and bicycle rides have all been offered by park staff. Please refer to the events calendar for details.
Special Needs Tours
Advanced notice is needed to coordinate sign language interpreters or other supplemental assistance for visitors with special needs. Please let us know how we can help you enjoy Your National Parks.
Last updated: February 26, 2015