Trading Cards
Kids! Collect stories about the Civil War and civil rights! The National Park Service is offering more than 500 trading cards to mark the 150th anniversary of the Civil War. Visit a park in person to earn a card. Ask a ranger or stop by the visitor center at a participating park like Allegheny Portage Railroad National Historic Site. You can view all the cards online and discover stories from nearly 90 national parks in 31 states and the District of Columbia. You'll be surprised at what you will learn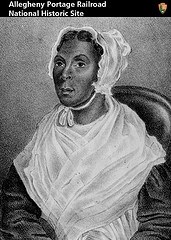 Jarena Lee
Jarena Lee was the first female African Methodist Episcopal (AME) preacher and and early 19th century civil rights activist. Driven by faith and courage, she traveled thousands of miles by foot, wagon, and via the Allegheny Portage Railroad and Mainline Canal to attract members and financial support for new AME congregations.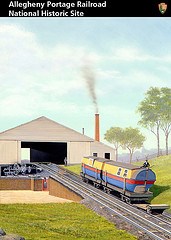 A Portage to Freedom
The Allegheny Portage Railroad was used by people escaping slavery. In 1855, Jacob Green, a freedom seeker from Virginia, was spotted on the Railroad by slave catcher James Parsons, Jr. Parsons attempted to capture Green but was instead arrested on kidnapping charges. Parsons' trial showed how Pennsylvania and Virginia had different laws about slavery.
Last updated: February 26, 2015