Article
Civil War to Civil Rights Trading Cards
Collect stories about the
Civil War
and
civil rights
! To mark the 150th anniversary of the Civil War, the National Park Service offered more than 500 trading cards available throughout nearly 90 National Parks in 31 states. While the anniversary has now passed, you can still collect these trading cards as you visit different parks.
The participating parks are listed at the bottom of this page. As well, you can view all of the
cards online
. You may be surprised as to what you might learn!
While visiting Homestead National Monument of America you can collect five different trading cards: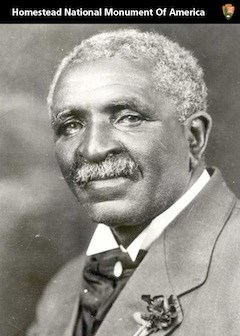 George Washington Carver
Carver was born into slavery in Missouri in the closing days of the Civil War. As a young man Carver traveled to Kansas to claim a homestead. Eventually Carver would relinquish his claim to pursue his education. Carver dedicated his life to scholarship and invention, developing hundreds of agricultural and industrial products.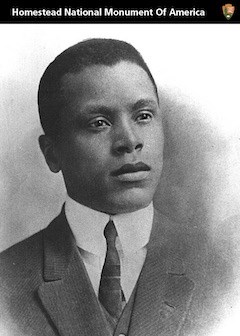 Oscar Micheaux
In 1904 Micheaux homesteaded in South Dakota. He wrote two critically acclaimed novels about those experiences. The success of his writing combined with his interest in motion pictures led Micheaux to become the first African American feature film maker. In 1919 he released his first film titled The Homesteader.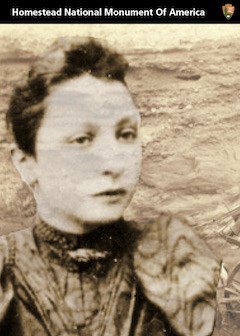 Rachel Bella Calof
In 1894 Calof traveled from Russia to America to meet the man arranged to be her husband. They made their way to North Dakota seeking others who immigrated to the U.S. to claim land under the Homestead Act. Her account tells the hardships endured by both women and immigrants during U.S. expansion.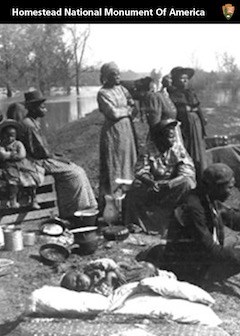 Exodusters Leaving the South
In 1877 the Reconstruction Era ended in the South. Countless African Americans fled the South to escape the harsh Black Codes and violence they were subjected to. Thousands seeking the civil liberties promised to them obtained free land in the West through the Homestead Act.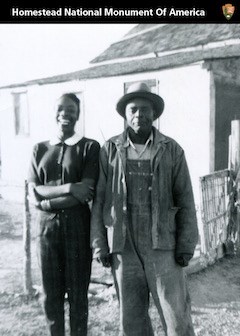 African American Homestead Communities
In the late 19
th
and early 20
th
centuries African Americans moved West in search of opportunity. Thriving agricultural communities throughout the West, like Nicodemus in Kansas along with The Dry and Dearfield in Colorado, were established nearby areas where African Americans were claiming land under the Homestead Act.
Participating Parks:
Alabama
Natchez Trace Parkway
Selma to Montgomery NHT
Tuskegee Airmen NHS
Tuskegee Institute NHS
Arkansas
Fort Smith NHS Hot Springs NP
California
Golden Gate NRA Manzanar NHS
Port Chicago Naval Magazine NMem
Rosie the Riveter / WWII Home Front NHP
Connecticut
Weir Farm NHS
District of Columbia
Civil War Defenses of Washington Frederick Douglass NHS
Ford's Theatre NHS
National Mall and Memorial Parks
George Washington Memorial Parkway
Florida
Dry Tortugas NP
Gulf Islands NS
Georgia
Andersonville NHS
Chattahoochee River NRA
Chickamauga and Chattanooga NMP
Cumberland Island NS
Fort Pulaski NM
Kennesaw Mountain NBP
Ocmulgee NM
Illinois
Lincoln Home NHS
Indiana
Lincoln Boyhood National Memorial
Kansas
Brown v. Board of Education NHS
Fort Larned NHS
Fort Scott NHS
Kentucky
Abraham Lincoln Birthplace NHP
Big South Fork NR&RA
Cumberland Gap NHP
Mammoth Cave NP
Louisiana
Cane River Creole NHP
Jean Lafitte NHP&P
Maryland
Antietam NB
Clara Barton NHS
C&O Canal NHP
Harpers Ferry NHP
Monocacy NB
Massachusetts
Adams NHP
Blackstone River Valley NHC
Boston African American NHS
Boston NHP
Boston Harbor Islands NRA
Longfellow House NHS
Lowell NHP
New Bedford Whaling NHP
Mississippi
Gulf Islands NS
Natchez NHP
Natchez Trace Parkway Vicksburg NMP
Missouri
Harry S. Truman NHS
Ulysses S. Grant NHS
Wilson's Creek NB
Nebraska
Homestead National Monument of America
New Hampshire
Saint-Gaudens NHS
New Mexico
Fort Union NM Pecos NHP
New York
Governors Island NM
Martin Van Buren NHS
Women's Rights NHP
North Carolina
Cape Hatteras NS
Cape Lookout NS
Fort Raleigh NHS
Overmountain Victory NHT
Wright Brothers National Memorial
Oregon
Fort Vancouver NHS
Pennsylvania
Allegheny Portage Railroad NHS
Gettysburg NMP
Independence NHP
Rhode Island
Blackstone River Valley NHC
South Carolina
Charles Pinckney NHS
Fort Sumter NM
Overmountain Victory NHT
Tennessee
Andrew Johnson NHS
Big South Fork NR&RA
Fort Donelson NB
Natchez Trace Parkway
Overmountain Victory NHT
Shiloh NMP
Stones River NB
Texas
Lyndon B. Johnson NHP
Palo Alto Battlefield NHP
Virginia
Appomattox Court House NHP Arlington House
The Robert E. Lee Memorial
Booker T. Washington NM
Cedar Creek and Belle Grove NHP
Colonial NHP Fort Monroe NM
Fredericksburg & Spotsylvania NMP
Harpers Ferry NHP
Manassas NBP
Overmountain Victory NHT
Petersburg NB
Richmond NBP
Washington
Fort Vancouver NHS
West Virgina
C&O Canal NHP
Harpers Ferry NHP
Wisconsin
Apostle Islands NL
Wyoming
Fort Laramie NHS
Last updated: April 18, 2020